New Mix: Bon Iver, Brian Eno, Wilco, Khruangbin And More
New Mix: Bon Iver, Brian Eno, Wilco, Khruangbin And More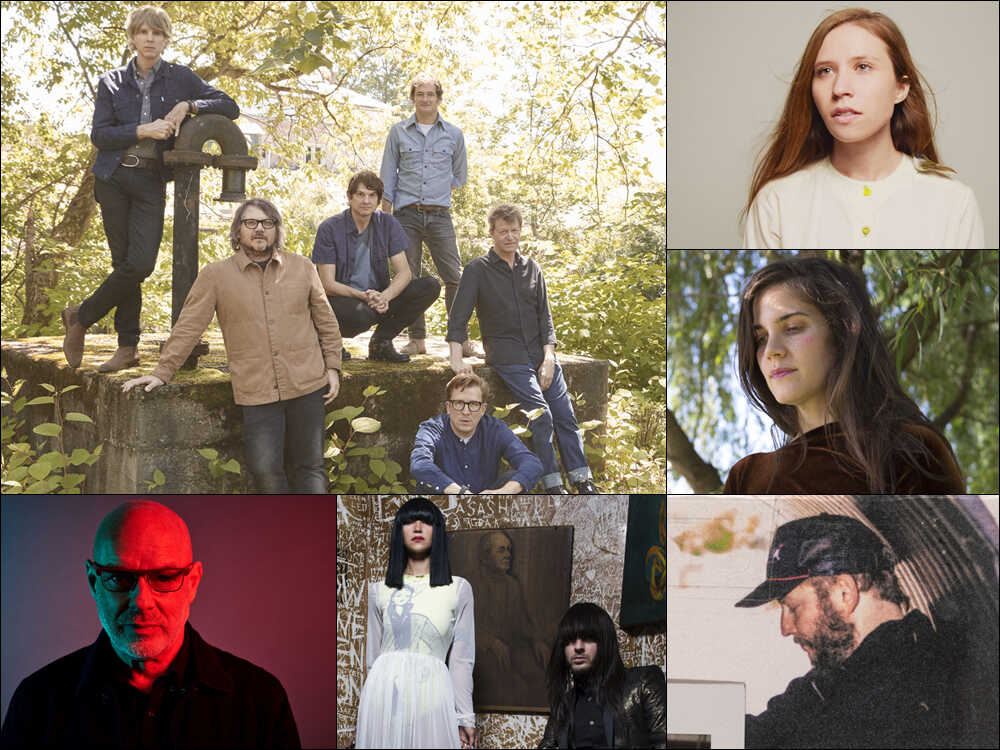 I'm all alone in the studio.
I had so many new songs to share; I didn't want to split the show with a co-host.
I have some thrilling discoveries, but I begin the show with an artist we've been covering all these 20-plus years of All Songs Considered: Wilco. The band has a new album coming called Ode to Joy, and I play the first single from that record, a song that Jeff Tweedy says is a reminder "to act with more love and courage and less outrage and anesthetized fear."
There are some discoveries I'm thrilled to play, including an artist known as Pearla who makes music worth getting lost in. You'll also hear Erin Durant, whose music mixes mountain dulcimer and the electronics of TV On The Radio's Kyp Malone with Erin's lulling voice.
Then there's these surprises: Khruangbin reimagines their 2018 album Con Todo El Mundo as a dub album! And Brian Eno, along with Roger Eno and Daniel Lanois, expand on their decades-old project Apollo: Atmospheres & Soundtracks with 11 new tracks.
And for lovers of Sylvan Esso's Nick Sanborn, I play something from his new project Rosenau & Sanborn which mixes modular synths and guitar loops into a new world of sound. It's a project that was birthed at Justin Vernon's Eaux Claire Festival, and in that spirit we play a new song from Bon Iver from the upcoming album i,i.
Songs Featured On This Episode
Wilco
Song: Love is Everywhere (Beware)
Wilco is back with the band's just-announced album Ode to Joy and this new song, "Love is Everywhere (Beware)." Regarding the song, Jeff Tweedy says "Love conquers all but not when it's used as a sedative... this song is a reminder to myself to act with more love and courage and less outrage and anesthetized fear." Ode to Joy is out Oct. 4 on dBpm Records.
Pearla
Pearla is the name of Brooklyn-based singer-songwriter Nicole Rodriguez's solo project. "Daydream," a cut from her debut EP Quilting & Other Activities, is an ethereal dip into Rodriguez's reveries.
Khruangbin
For Hasta El Cielo, Austin-based psych trio Khruangbin has reimagined last year's Con Todo El Mundo as a dub record. Produced by Jamaican producer Scientist, "Mary Always" is a bass-heavy, echo-laden take on Con Todo El Mundo's "Maria También" that never sacrifices the original's psychedelic spaceyness. Hasta El Cielo is out now on Dead Oceans.
Erin Durant
To call "Rising Sun," eclectic would be an understatement. Erin Durant plays mountain dulcimer and gives a lovely vocal performance; modular synths from TV On The Radio's Kyp Malone, drones and a jazz band weave their way in and out of the mix. The iconic line, "There is a house in New Orleans" pops up at the beginning of each chorus. Despite its disparate elements, though, it gels beautifully. Islands is out now on Keeled Scales.
Rosenau & Sanborn
Chris Rosenau (Collections of Colonies of Bees) and Nick Sanborn (Sylvan Esso) are longtime collaborators, but their new record Bluebird is the first to be released jointly under their names. In the instrumental track "Saturday," the duo's synths buzz and bounce around like the cogs in a whirring machine. Bluebird is out July 23 on Psychic Hotline.
Bon Iver
After teasing us with two new singles last month (and releasing a very self-aware, Pure Michigan-esque movie trailer), Bon Iver finally announced an upcoming album. "Jelmore" fuses twitchy, hesitant electronics with impassioned vocals from frontman Justin Vernon, making for a curiously soothing – yet unsettling – two-and-a-half-minutes. i,i is out Aug. 30 on Jagjaguwar.
Brian Eno
Song: The End of a Thin Cord
To mark the 50th anniversary of the Apollo 11 mission, Brian Eno decided to revisit his collaborative soundtrack with Roger Eno and Daniel Lanois for the 1983 documentary about the moon landing, For All Mankind. There are 11 new tracks on this remastered release. One of those new tracks, "The End Of A Thin Cord," is a swirling, hypnotic constellation of harmonies grounded by static white noise. The extended edition of Apollo: Atmospheres & Soundtracks is out July 19 on UMC.