Introducing Yabingsoft Live!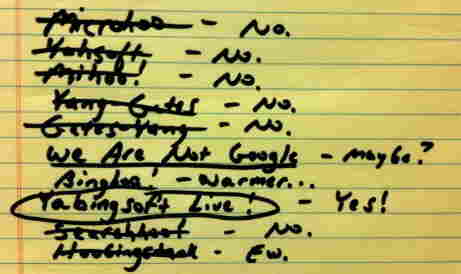 Names are important. Just ask the inventors of the Snuggie and the Denny's Moon Over My Hammy. (Side note to Denny's: I have a great idea for an Internet-related breakfast combo involving extra sausage links. Call me.)
That's why something about this whole 10-year Microsoft/Yahoo! search deal hasn't been sitting well with me. Apart from it being completely anticlimactic after so much speculation, I'm appalled that no one has come up with a better name than the one that first sprang up. "Microhoo" is still an actual (made-up) word being used by people, on purpose.
While it's true that companies may simply continue using their respective monikers (including Microsoft's new one, Bing, which has proven more popular than anyone could have expected), I couldn't just sit here and let this "Microhoo" mess continue. As an interested third party, I had to act. I made a list (above).
(Full list after the jump.)
Mihoo!

Yang-Gates Inc.

Gates-Yang Inc.!

We Are Not Google

Binghoo!

Yabingsoft Live!

10 Years Of Britney Queries

HooBingStank!

Giant Money Hole Enterprises

YooHoo! (Not affiliated with any chocolate-flavored beverages with similar names)

Search 7 (Service Pack 2)

404-Busters

You Are Gross For Even Typing That In The Search Bar

Searchoo!