Mom Bloggers Are Spreading Influence, But Facing New Problems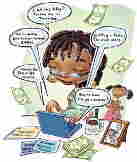 In this week's All Tech Considered segment, we take you to the annual, just-concluded BlogHer '09 conference in Chicago, where many mom bloggers gathered to discuss the momblogosphere and to connect with other online writers. One hot topic was the recent talk by the Federal Trade Commission on whether blogs that review products should offer a disclaimer stating whether they are posting paid reviews or are receiving free products in exchange for positive posts.
I wrote about the state of mom bloggers last month for the Austin American-Statesman. In that story, I wrote about the shift toward more profitable niches or writing and the growing influence mom blogs have in the online world. You can find that story here.
(More links and information after the jump.)
Other links related to this piece on mom bloggers:
Got more sites or thoughts on mom blogs to share? Post them in the comments.