Twitter Beats Love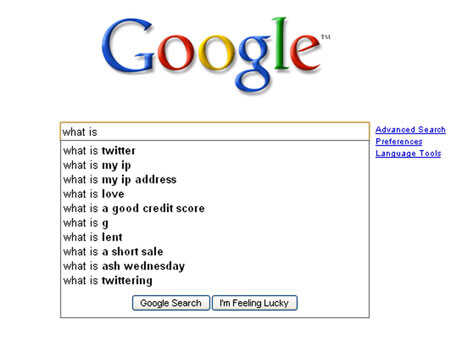 Google's "auto suggest" provides a nice window into the public consciousness at a given moment in time. Right now, it seems Twitter is number one on everyone's mind and love doesn't even rank in the top three. Google's auto suggest works largely based on the popularity of certain searches at a given moment in time. When you type a question into Google, the search engine will automatically start to fill in the blank based on the most popular searches following that phrase. The most popular search terms after a phrase like "what is....?" will come up.
I recently tried typing, "what is?" and found myself feeling a little sad. :-(. Right now, Twitter is the first word after "what is." It's followed by "my ip," "my ip address," and "love" ranks number four. Of course, the auto suggest will change based on what people are trying to find out at a given time.
Perhaps we could stage a world wide rebellion and millions of people could start searching for "what is love?" Well, maybe that's a little corny but it's still a more interesting question for me than "What is Twitter?"
If you want to have fun just try searching other questions and see what comes up, "Who are? Where are? What are? It's a fun exercise.