What's Underneath A Hybrid Vehicle? A Monster Of A Battery
John F. Martin/for General Motors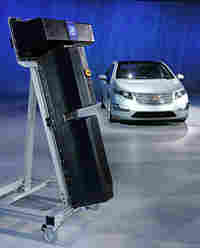 As promised, a few photos to go along with reporter Tracy Samilton's All Tech piece today. They're from GM's new 33,000 square-foot Global Battery Systems Lab in Detroit — the frontier of lithium-ion car battery development (at least GM's share of that frontier).
You'll find several good shots here — my favorite being the battery on a Hannibal Lecter-like platform with the much-anticipated Volt keeping its distance in the background. Note the size, too. As Robert and David Kiley both mention in today's on-air interview, one of the key obstacles for battery engineers is keeping that lithium-ion "T" to a manageable shape and weight.
Speaking of shape and weight, here are a few useful numbers. Each battery pack offers 360 volts. That requires 220 individual battery cells per pack, which helps explain the pack's weight: a whopping 400 pounds. And it's length... about five feet. Gone are the days of a battery under the hood. The Volt battery begins under the hood and runs between the front and back seats. GM's thinking is, consumers will put up with that bulkiness in return for being able to go 40 miles on one electric charge.