Digitizing Business Cards, Saving Soaked Cell Phones And Disney's Online Books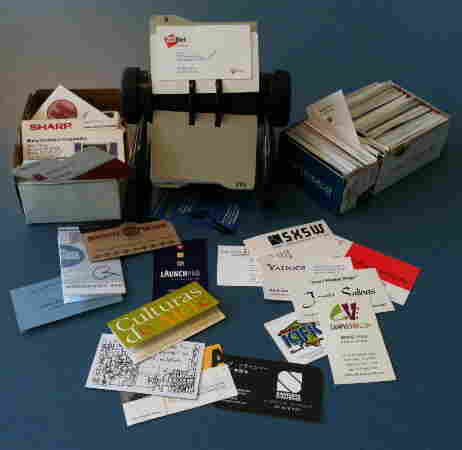 In this week's All Tech Considered, we talk about the arduous task of converting paper business cards to a digital format. Why would someone take on such a project? As someone who's doing it, I can say that it's much easier to search an electronic contact list than hundreds or thousands of cards. Also, we'd all like to cut down on our paper clutter (which you can see in the photo above).
In addition to devices like the NeatDesk scanner mentioned in the piece, there are also services like Cloud Contacts who will scan cards in for you for a fee and make them accessible to you online.
There are cell phone applications like "Bump" to exchange contact information wireless, a text-messaging service called Text4vCard that will e-mail you contact information and even 2-D bar codes you can put on a traditional paper business card.
And then there's the Poken, which we covered on a prior broadcast.