HTC Pure Review: In The Mobile World, Being A PC Is Not Much Fun
Recently, I got a hold of an AT&T HTC Pure — a—G phone powered by Windows mobile 6.5. The specs were promising: high-speed network, touch screen interface, 5 megapixel camera, apps, radio tuner and an on-screen keyboard.
Because full immersion is required for a proper evaluation, I did the unspeakable: I yanked the SIM card from my iPhone and inserted it into the Pure.
I was now a PC.
But I found out, quickly, that being a being a PC isn't that much fun.
The Pure has two major shortcomings that make it unwieldy, especially for a longtime iPhone user. First, the touch screen isn't terribly sensitive: scrolling and selecting are cumbersome and do not always yield the intended result. The touch screen performs better with the provided stylus, but pulling out the stylus is inconvenient if you are in a rush.
Second, the software is confusing. There are too many sub-folders and too many options. Superfluous steps are required to perform simple tasks. Thankfully, there is one feature buried deeply in the abyss of this OS, which improved my experience impressively: The Touch-FLO 3D interface built by HTC.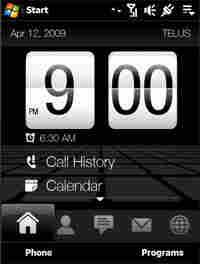 The Touch-FLO provides a great starting point for accessing key information and features of the phone. A strip on the bottom of the screen allows you to flip to various applications like the calendar, contacts, phone and apps. For example, the phone dashboard displays the time, a link to call history and upcoming appointments — all neatly packed into an easy-to-absorb panel. Selecting an item on the panel allows you to get detailed information or take quick action. I particularly enjoyed the messaging tab which reveals the most recent text message note. With the flip of my finger I was able to sift through all of my messages, dive into a thread or compose a reply.
I should note that the phone was delivered with the Windows Today screen as a default instead of Touch-FLO. However, when I reset the phone to factory defaults, it booted up with the Touch-FLO today screen.
All in all, the Pure is a well rounded smartphone. You can set up multiple e-mail accounts, synchronize your calendar, tasks and notes with Outlook and download apps from the Microsoft store. You can also surf the web with Internet Explorer, Opera and at least one other browser. There is enough screen real estate to make viewing information a pleasure (although not as much as the iPhone) and the overall size of the phone allows it to fit comfortably within a front pant pocket.
I like the fact that you can dial by name on the keypad to reveal contacts dynamically from your address book, one feature the iPhone lacks.
And the inclusion of a radio is awesome. The sound quality is good, the tuner is intuitive and you can program station favorites. However, it is unfortunate that the headphone adapter, which doubles as an antennae, is required to use the radio.
But priced at $199.99 before a $50 dollar rebate AT&T is currently offering, you'd have to be one hell of a terrestrial radio fan to select this device when you can walk away with an iPhone for $99. So, having successfully returned my SIM card to its comfy home in my iPhone 3G, I am quite happy to be a Mac again.
A few more tidbits about the phone:
The Good:

There is a video share feature that lets you invite a called party to view a video from your phone. I didn't test this, but it sounds intriguing.
You can synch your Facebook contacts to the phone (pictures included). You can also see your Facebook friends' phone numbers from the Facebook app and make calls with a simple click.
Battery life is solid; much better than the iPhone in my opinion.
The onscreen keyboard can be set to vibrate when entering a letter; a useful confirmation that your selection was successfully depressed.
The Bad:

The device doesn't come with headphones.
Web browsing is slow; navigation is unwieldy and the zooming control could be better.
The on-screen keyboard takes some getting used to and is not as easy to use as the iPhone keyboard.
The device quickly maxed out on storage and I was then beeped incessantly to remove files. It was way too complicated to figure out how to delete some files. You can add a storage card to get more memory and you'd definitely want to do that in order to use the device to its potential.
Windows Mobile should ditch its program architecture. When you start up a program, it continues to occupy space in memory unless you manually shut it down. As a result, applications tend to accumulate making less resources available on the phone. Although this didn't seem to cause me any performance issues, it did create confusion. When I would close one app, I would be delivered to another application instead of a home screen. I prefer the iPhone model that returns you to the home screen when an app is shut down.