'Sockscription'; Like A Magazine Subscription For Your Feet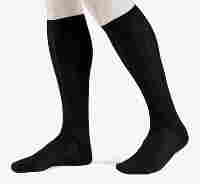 I am not a jet-setter, at least not yet, but I can definitely see how if I were, I might lose track of one of the major necessities on the road: nice socks.
"Dubious" was my first reaction when a site called Blacksocks.com e-mailed me about their subscription service for "Time-starved, tech-savvy men, who want their feet clothed in fine socks."
I am at least three of those things and who doesn't want their feet wrapped in finery?
The way the site's so-called "Sockscriptions" work is that you can set up a delivery of several times a year (say three pairs of socks three times a year) at a set fee. Presumably, you (and your feet) would breathe easier knowing that socks were on the way on a schedule, saving you a schlep to the feet finery shop at the mall.
The socks are not cheap (I priced out one set of socks and it would have cost close to $100; I did not sign on), but if you are tech-savvy, time-starved and cash-rich, you may be just the Sockscription type.