Yes, Race Matters In Online Dating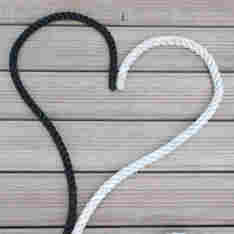 When we talk about race it's almost always institutional, about hiring and real-estate trends and government policy. We rarely look at it in terms of our personal lives.
Earlier this month, though, OKCupid, a free online dating service, scoured through the messaging trends of more than one million of their users and found that online dating is riddled with the same biases as the real world.
In short, black women are slighted the most and white men have a bountiful harvest.
Using their "picture-rating utility" the analysis made sure that a person's looks didn't play a role. The data used came from people whose pictures were rated about the same. Still, they found that Caucasian women preferred white men over any other race. That same preference was more patent in Hispanic and Asian women.
Sam Yagan, co-founder and CEO of OKCupid, said as they looked at the numbers there was a sense of sadness in the room. Not that they didn't expect the numbers, he said, it's that they hoped that on the internet it would be less pronounced.
"The internet makes it easy for you to talk to someone of a different race," he said. "We see a lot of people dating across geography, a lot more willingness to cross traditional boundaries. We thought people who are online are more forward thinking."
But they found that when a black woman sends a white man a message, 32 percent of white guys respond. Compare that to 41 percent when messaged by a white woman and 47 percent when it's by a Middle Eastern woman.
It all got very interesting when they compared the data to what they gathered from asking people directly whether they would "strongly prefer to date someone of your own skin color/racial background."
Three out of five white men responded "no" and more than half of white women responded "yes."
It showed that what people say and what they do is still completely out of whack. It's the super ego thinking we live in a post-racial society but the id very much sticking to conventional wisdom.