Testing Google Versus Standalone Navigation Systems
When Google unveiled its Google Maps Navigation system it sent shock waves through the portable navigation device industry. Stock in Garmin is down 16 percent since Google announced its navigation app would be free on the Verizon Droid phone and, as of yesterday, others including T-Mobile myTouch 3G and the G1. TomTom stock is off 32 percent.
The question the markets are clearly asking is: If people can get good navigation in their smart phone at no extra charge, why would they pay $150 for a stand-alone GPS device?
Analysts fully expect the Droid and other GPS enabled smart phones to cut into the portable navigation market. But how does the Droid with Google Maps Navigation match up with stand-alone devices?
Pretty darned well.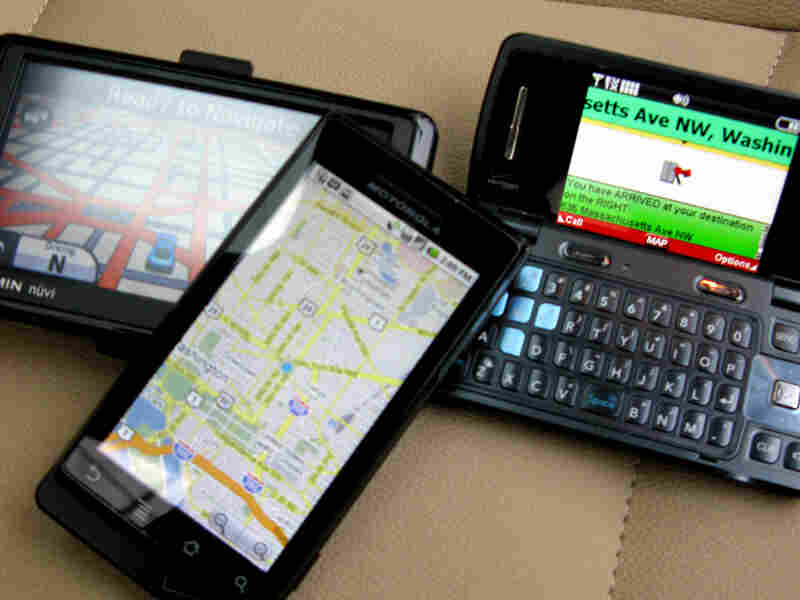 Google Navigation is a full-service, turn-by-turn guidance system. It's voice activated so you can tell the Droid where you want to go, and most of the time it makes a pretty accurate guess. The stand-alone GPS devices are loaded with points of interest, but they tend to be pretty limited. An exact address or intersection is often required. This is an area where Google Navigation has a strong advantage. The system is very fast, quickly finding an address or point of interest and generating a route.
With stand-alone portable navigation devices, the maps are built in. The Droid, however, connects to Google maps through Verizon's 3G network. So, you need cell service to access the navigation, which wasn't an issue during my road tests.
Often the system offers two or three different routes to choose from. It calculates how long it should take based on traffic conditions. Driving from my home to the office 10 miles away, it came up with three choices.
The system allows you to add layers of data to the map. For instance you can view traffic conditions, a satellite view and all the restaurants along the way. This is fun but not particularly practical if you're trying to drive. The screen is big by phone standards, but compared to the newest, stand-alone GPS units, it's tiny.
Droid gives plenty of warning as turns approach. A nice addition would be guidance about which lane to get into in advance (both Tomtom and Garmin are offering lane guidance now). If you hit traffic, you can ask the system to offer an alternative route. But you have to hit the screen a couple of times to get the new route. It isn't automatic.
As a point of comparison I've been test driving the Garmin nuvi 1390T ($254 on Amazon, no extra charge for traffic monitoring). Friday night I was driving home from the airport. Before I even realized there was a traffic jam ahead, Garmin adjusted the route and suggested I stay to the left and take a different freeway. A minute later I saw that my normal route was totally backed up. This was an impressive time saver, and completely automatic.
It excels compared to Google Nav and I have a other complaints about Google: On one recent trip the Droid instructed me to turn left on a street where left turns aren't allowed during rush hour. I couldn't turn and had to make a detour that added several minutes to the trip.
On a recent drive home from work, Droid suggested three routes and said each would take about 50 minutes. About 20 minutes into the drive, I decided to go off route, using a different road with fewer traffic signals. Droid wasn't happy. But I stuck to it and shaved at least 15 minutes off the predicted travel time.
I guess the lesson is that sometimes the driver still knows more than the very smart phone. Most stand-alone GPS units allow you to customize your travel preferences, choosing shortest distance, fastest time, avoid highways, avoid toll roads, etc. Google Maps Navigation appears not to offer this choice. It's not clear whether having these choices would have helped in this case.
Droid seems no better at predicting how long a trip will actually take than any other GPS unit I have used. In Washington, D.C., where I road tested the Droid, most of the driving is done on surface streets, not highways. Although Google Maps Navigation seemed to know the traffic conditions on the streets I was taking, it had trouble calculating travel time.
One day, it said the trip would take 35 minutes and it took an hour. The next day it said 32 and it took 45. Also, most GPS units tell you what time you'll arrive. Instead, Droid tells you how much longer the trip will take. It requires a little math to figure out the projected arrival time. But not to worry, I've discovered it's pretty unreliable anyway.