Schmap Helps Michaele Salahi Go To Chuck E. Cheese - Sort Of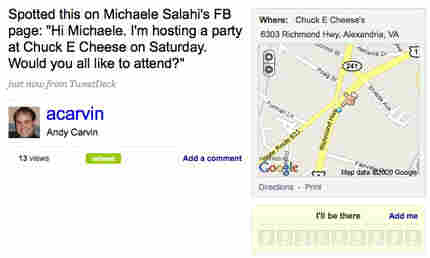 Yesterday afternoon I got a tweet from someone named @AlyssaCappen that I found rather puzzling:
AlyssaCappen: @acarvin here's a 'schmap' for the party: http://schmap.it/knYS73?a (made at www.schmap.it = share places and events on Twitter)
For those of you not familiar with Schmap, it's a tool that tries to make it easier to share a customized map with friends over Twitter. But I was absolutely confused about the purpose of this particular tweet. What party was she talking about? Was there a party associated with this week's FTC event on the future of journalism? Was it for some NPR staff holiday party that I wasn't aware of - or not invited to? Then I clicked the link and saw what she was talking about: it was a party invite at Chuck E. Cheese for White House party crasher Michaele Salahi.
Okay, let me parse that out a bit further.
Yesterday I was reading a story about the White House party crashers kerfuffle, and one link led to another, bringing me to Michaele Salahi's Facebook page. The page has gotten a lot of attention, particularly since she posted photos from her appearance at the White House state dinner. I'd been curious to see how many people had become fans of her page just to criticize her, and I found this particularly snarky comment:
Hi Michaele. I'm hosting a party at Chuck E Cheese on Saturday. Would you all like to attend? This email is proof of your invitation.
I thought the comment was kinda funny, so I tweeted a snippet of it. Maybe it wasn't that funny, but what's done is done.
So as for that cryptic tweet I got from @AlyssaCappen, who apparently does customer support for Schmap, she seems to have been searching Twitter for various keywords like "party." She saw my tweet, didn't see the attempted humor in it, and sent me a reply to give me directions to the party at Chuck E. Cheese. All of this despite the fact my tweet didn't specify which Chuck E. Cheese, let alone the fact that it was intended by the original author as sarcasm directed towards Michaele Salahi. And her tweet mapped out a Chuck E. Cheese in Alexandria, VA, suggesting she took the time to identify where I was located. (Actually, my closest Chuck E. Cheese is in Silver Spring, MD, but no matter.)
I then checked out Alyssa's Twitter account, and indeed it seems she spends her entire day sending out unsolicited tweets to unsuspecting people, giving them maps related to things they've tweeted about. Hence, the map I received from her.
Honestly, I'm a little weirded out by the whole matter, but in a hypocritical sort of way. I'm the first to admit that if I see a random person on Twitter ask a question about NPR, I'll try to send them a reply and be helpful. It's not really part of my job, but I figure I'm pretty active on Twitter so I might as well be of assistance if I can. But this is different - someone at Schmap being assigned the task to monitor Twitter for whatever events people are attending and sending them maps related to it, all in the hopes of getting them to use their product. I imagine that Schmap intends it as a form of beneficial social media marketing, but it does smack - schmack? - of spam. At least their attempt to solicit me ended in a somewhat entertaining outcome.
My advice to Schmap: dig even deeper next time. If you did, you would've posted the link directly to @MichaeleSalahi instead. :-)
This blog post originally appeared on Andy's Posterous blog. You can follow him on Twitter at @acarvin.