Chatroulette: Risky, Revolting, Revealing And Revolutionary?
On this week's All Tech Considered, we discuss the Web phenomenon of Chatroulette, a simple Web service for randomly connecting with others using webcams all over the world. We should warn you before clicking the link for the site that you will see some very inappropriate things in the course of using it and you should keep kids far, far, far away from it.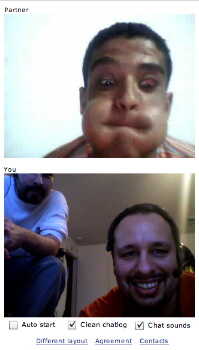 That being said, here are some other links and info we found:
Personally, I found it to be disturbing, entertaining and strangely addictive once you get over the initial nervousness of chatting and if you have a strong stomach.
In my experience, the network was a little flaky, so even the real, successful chats I had sometimes ended in a frozen Web cam. It left an ephemeral feel that made real encounters even more precious.
And I also saw lots of dirty things I'd like to forget. Is it revolutionary? Not really. But it's a bit of an adrenaline rush and I could see it being useful if it were incorporated into a set group of users, say Facebook's user database. You'd need heavy-duty filtering options, but how great would it be to be able to control the randomness a little? Then again, that may be defeating the purpose and kill what makes Chatroulette so unique.
Have you tried it? Are your eyes ruined forever? Tell us what you think by posting a comment.