Target Starts Mobile Coupon Program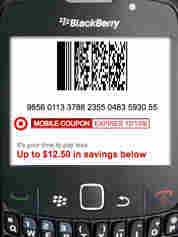 Coupon clippers may or may not rejoice when they hear about Target's latest idea. The retail giant wants to eke sales out of the mobile phone craze by offering scan-ready coupons directly to your phone.
The coupons are delivered monthly via SMS. The text messages contain a link to a mobile Web page, where customers will find ads for a variety of products. Signing up for the messages is straight forward. To receive the SMS from Target, users can either go to http://m.target.com or text COUPONS to 827438.
For those who, like me, are averse to spending Saturday morning clipping ads from their local papers this spells a welcome relief.
Whether or not it will spell effective for Target is another story altogether. Leah Guimond, a spokesperson for Target, doesn't seem to be outwardly concerned about the company's returns. A Wall Street Journal blog post quotes her saying, "We know our guests are relying more and more on mobile devices, so we're providing convenient, on-the-go mobile solutions to help them make the most of their Target shopping experience."