Formalizing The Web: Buying Music Rights For Home Videos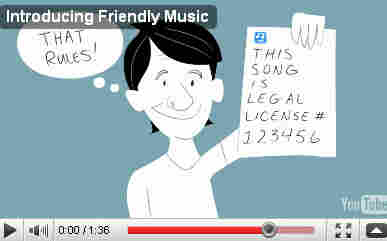 Ever put up a home made video on YouTube, gone back to look at it and discovered that the sound was gone?  Then there was that notice saying it had been taken down for a copyright violation?
"Jeeze," you're thinking to yourself, "I was just messing around and wanted to share it with my friends."
Well, there is now another option when you make that video of little Timmy or Janey or you lip synching.
YouTube has struck a deal with Rumblefish that will let video makers purchase the rights to a song for a $1.99.  It's called Friendlymusic and it offers up a collection of 35,000 songs.  If you purchase the rights you can post your video wherever you want and not have to worry about the copyright police.
Rumblefish doesn't have deals yet with any of the major labels but they say they are working on it.  They do have some relatively well known independent artists such as George Clinton & the P-Funk All Stars, Loch Lomond, and Samantha Murphy and several good independent labels.
A crucial detail here is that the license is only good for non-commercial uses.  If you start trying to make money off that home made video then you have to go through a whole different licensing procedure.
I guess it's good for those of use who want to share home videos online.  It's also a growing sign of the growing corporate control of the web and the changing face of YouTube.  I'm sure some folks still feel they shouldn't have to pay anything if they aren't making money from their videos.