What Happened In Vegas: Recapping The 2010 Latin Grammys
Was that a long show, or what? Did you catch the approximately three hours of musical exuberance? Co-host Felix Contreras insists that I use the word "gaudy." It was a little over the top, even for Las Vegas.
A complete list of the winners can be found here.
* Dominican singer/songwriter Juan Luis Guerra won big: "Bachata en Fukuoka" won in the Best Tropical Song category and A Son De Guerra won Best Tropical Album, as well as Album Of The Year. Plus, he opened the ceremony with what ended up being one of the better performances of the night (and it included synchronized swimmers). He is a brilliant musician and lyricist who always delivers. Speaking of which, he delivered a great acceptance speech, saying, "It is very important for us to reclaim more justice, more integrity and more honesty for our countries. The time has come and we need to lift up our voices."
* The other big winner was Mexican soft-rock group Camila: It received the award for Record Of The Year for Mientes, and that album's title track was named Song Of The Year, as well. Mientes was also honored as Best Pop Vocal Album.
* Argentine rocker Gustavo Cerati, who suffered an aneurysm-induced coma earlier this year, won Best Rock Album for Fuerza Natural and Best Rock Song for "Deja Vu." Fans pointed out that he didn't even get a mention in the actual awards show.
* As expected, Alejandro Sanz won Best Male Pop Vocal Album.
* Chino and Nacho won Best Urban Music Album, and the Twitterverse went crazy with Venezuelan pride.
* Spain's Mala Rodriguez received the award for Best Urban Song for "No Pidas Perdon." Maybe we blinked and missed it, but it would've been nice to see one of the rare female winners in a male-dominated category actually receive the award during the broadcast.
*We also would've liked to see Ely Guerra, who won the award for Best Alternative Album.
* Alex Cuba won Best New Artist. We saw that coming miles away and are very pleased. Cuba is a performer to look out for. However, please do yourself a favor and also give his fellow nominee, Brazil's Maria Gadu, a listen. She has been featured on our show. We thought it was a shame there wasn't more of a Brazilian presence in the awards show.
* A lot of the jokes fell flat, but some were funny, such as Marc Anthony's imaginary prenuptial agreement stating that he's not allowed to speak to any Miss Universes. A few presenters offered social commentary. When host Eugenio Derbez joked that he was late to the ceremony because when people saw a Latino wearing a tuxedo, they asked him if he could park their car.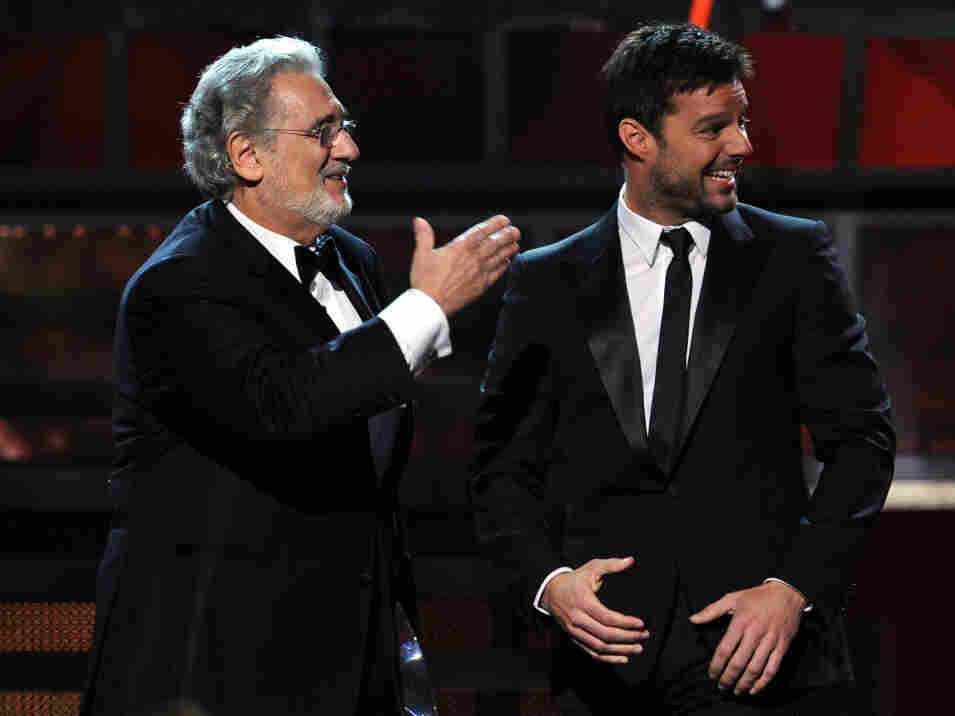 * The show featured performances from Ricky Martin, Camila, Enrique Iglesias and Jenni Rivera. Marc Anthony sang the classic bolero "Y Como Es El" with Jose Luis Perales. Jas' favorite was Johnny Ventura with Gilberto Santa Rosa -- and, of course, Alt.Latino favorite ChocQuibTown doing "De Donde Vengo Yo." We just wish there were more innovative fresh faces like that throughout the entire Grammy ceremony.
* Ricky Martin handed Placido Domingo the "Person Of The Year" award. Domingo gave a beautiful speech about the fortitude and beauty of Latin culture. That man is pure class.
* Nelly Furtado, a Canadian singer who released her first Spanish-language album last year, received the award for Best Female Pop Album.
Overall, we felt the Grammys once again offered an oversimplified view of the Latin music landscape. We love seeing artists like Juan Luis Guerra get their props, but we'd also like to see some new faces, different sounds and more exciting music, not to mention an awards show with more countries represented. At times, it felt like there are only five or six countries in Latin America -- let's get some variety!
Felix adds:
Every performance was overproduced. The seemingly haphazard presentation of genres and styles... they could have made room for at least one alternative award on air. It was great to see Juan Luis Guerra get his props, but what about showing a little more of the depth of Latin music by showing winners from the classical or Latin jazz categories?
Okay, now it's your turn. Readers, what did you think of the show?