Top 10 Latin Alternative Albums Of 2010
It's been a good year for us here at Alt.Latino. We started a weekly program to bring you great new alternative and rock music from across the Latin world, as well as a daily blog in which we update you on music news and happenings.
People sometimes ask us if it's hard to build a show from scratch each week, and while the answer is a resounding "yes," 2010 was a great year to do a music show. It was a year of amazing releases -- from Argentina to Mexico, from the Caribbean to Spain.
This was the year of cumbia music. Albums featured cumbia remakes, cumbia mixed with electronica and reissues of classic cumbia. On a very different note this was also the year the '80s returned. Check out the retro sounds of two notables in this list, Javiera Mena and Alex Andwanter, both from Chile.
One album that made it into our list at the very last minute was Calle 13's Entren Los Que Quieran, which just came out last week. We had literally turned our list in when we got an advanced copy of the Puerto Rican rap duo's new work, and decided it was so good we simply couldn't leave it out.
As always at Alt.Latino, we invite you to debate with us. What did we miss? What were your favorite albums of 2010?
Alt.Latino's Top 10 Albums Of 2010
Everybody Loves the Sunshine
1. Seu Jorge And Almaz, 'Seu Jorge And Almaz'
Song: Everybody Loves the Sunshine
Brazilian singer-songwriter Seu Jorge is known to  American audiences through his roles in films such as City of God and The Life Aquatic with Steve Zissou. At first, Seu Jorge and Almaz had us excited that we would finally get to know the singer beyond the lens of film directors. Yet we're still seeing him through someone else's work, as the album is a compilation of cover songs, both rock 'n' roll and classic Brazilian music. What's often mistaken for a laid-back vibe in Jorge's voice is actually a dense, heavy quality -- it's like a calm lake that hides secrets in its depths.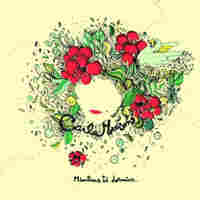 2. Carla Morrison, 'Mientras Tú Dormías'
After listening to Mexican musician and singer Carla Morrison's Mientras Tu Dormias (While You Slept), we ended up with a serious case of goosebumps. Morrison's voice is has an Eartha Kitt quality to it, but the fact that her music is playful doesn't mean she's not an incredibly poignant lyricist.

3. Rita Indiana, 'El Juidero'
Merengue music is not everyone's cup of tea, and electronic merengue-on-speed is much less so, but don't let the frantic synthesizers fool you: Rita Indiana is one of the most creative artists to hit Latin Alternative music in the last few years. Before delving into music, she was already an award-winning writer with a cult following in her native Dominican Republic. In the tradition of Latin songwriter/storytellers, Rita Indiana is a master of describing fleeting moments of everyday life which are actually deeply symbolic. For those who don't understand the lyrics, fear not: Her fast beats and Afro-Caribbean percussive elements will have you dancing in your seat.
4. Calle 13, 'Entren Los Que Quieran'
Puerto Rican reggaeton group Calle 13 is a band that tends to create a lot of controversy. Its lyrics are some of the raunchiest and wittiest we've ever heard -- very nasty, but hilarious. What we love about this band is that it applies the same passion to being gross that it does to being politically active. Entren Los Que Quieran finds the band all grown up: It's almost as if these guys realized they're too good to engage in beefs with other reggaeton artists and showbiz types.

5. Alex Cuba, 'Alex Cuba'
Song: If You Give Me Love
Alex Cuba has cited Michael Jackson, funk and soul as major influences, and it shows in his self-titled 2010 album. Spanish speakers doubly enjoy Cuba's music because of the depth and sexiness of the words. He's able to make fun of his own pleas, even breaking down and laughing at the end of a song. He's having fun throughout Alex Cuba, and the result sounds like summer love: exciting and warm, but with a wink at the listener.
Pintar El Sol (Chancha Via Circuito remix)
6. Chancha Via Circuito, 'Rio Arriba'
Song: Pintar El Sol (Chancha Via Circuito remix)
Chancha Via Circuito is Argentine DJ and producer Pedro Canale, who adopted his moniker when working at a nightclub in Buenos Aires. His commute was a long ride from the outskirts of the city on a train nicknamed "La Chancha" ("The Pig"). He must have spent a lot of time on "La Chancha," because Rio Arriba actually sounds like a ride on a ghost train through Latin America. Canale's heavy, dragging beats chug along, stopping occasionally through cosmopolitan city nightclubs, but mostly connecting the arid, ghastly musical landscapes of the Andes with the thick heartbeat of the Amazon. Along the way you hear cumbias, charango accompanied by traditional Andean pan-flutes and eerie lyrics.

7. Javiera Mena, 'Mena'
Chilean artist Javiera Mena's debut album is one we'll be listening to throughout fall and well into winter. It's so infectiously groovy, so danceable, so well-produced that it has critics everywhere calling it a pop masterpiece. "Sufrir" (To Suffer) is an ode to drama on the dance floor and sexual teasing. She sings, "When I think that you don't understand / the desire that could be / I detect that you are made of platinum."
8. Maneja Beto, 'Escante Calling'
Hearing Maneja Beto for the first time was like love at first listen: It's so anthemic and ethereal, we can't help but compare Maneja Beto to a Spanish band called Delorean. This Texas band takes things in a different direction on Escante Calling, which sounds like an autumn love affair. The entire record feels like the soundtrack to a movie, with every track telling a different part of the story.
9. Mala Rodríguez, 'Dirty Bailarina'
We were so pleased when Mala Rodríguez's "No Pidas Perdon" nabbed a Latin Grammy for Best Urban Song earlier this year. Urban categories at the Latin Grammys tend to be a boys' club, and they often feature the same artists doing the same song and dance, over and over again. Originally from Spain, this rapera injects much-needed life into the genre. She's smart, sexy, self-respecting and incredibly poetic.
10. Alex Anwandter, 'Odisea'
Chilean singer-songwriter Alex Anwandter's new project is truly a pop gem. In "Cabros," he makes the most of an '80s beat and a sexy, whiny voice. He also displays a great sense of humor, as the song isn't the typical pop tune boasting of male exploits, but rather a guy complaining that no one takes his calls when he wants to go out and have fun. (Instead, he's sitting at home drinking orange juice.) It all has the feeling of a young and talented but nerdy kid who fantasizes about being a pop star while practicing moves in his bedroom on a Friday night. It's cute, sexy and very promising.