New Latin Artists Playing At SXSW
English / Spanish
A Brazilian-Indonesian funkster teams up with a London MC; a Texan Latina's social work in El Salvador shines as bright as her charango-flavored music; a bold DJ injects Colombian flavor into the veins of New York City techno. You might not know about these artists yet, but one of our favorite things on Alt.Latino is discovering musicians who are still under the radar and sharing them with our listeners.
This is why we love SXSW, a yearly festival held in Austin, Texas that shines light on up-and-coming musicians — with a growing Latin presence. SXSW has been known as a springboard for artists like Bomba Estereo, who exploded onto the mainstream after a killer performance at the festival last year. This week we listen to some of the artists we are most excited about.
In this week's show Felix also shares one of his very favorite artists, and Jasmine makes bold predictions about the future of funk.
We also want to hear from you. Are you at SXSW? Make sure to send us your pictures!
-------------------------------------------------------------------------
English / Spanish
Alt.Latino: Nuevos Artistas Latinos En SXSW
Una joven brasilera-indonesia une fuerzas con un MC londinense; una latina de Texas que ha demostrado que su música es tan bella como su activismo en El Salvador; y un atrevido DJ que hace años le esta inyectando sabor colombiano a la escena tecno en Nueva York.
Esta semana, todos ellos se encuentran en un mismo lugar, junto a otros cientos de músicos: SXSW, un festival anual en Austin, Texas. Lo encantador de SXSW, es que provee una plataforma para excelentes músicos que aun no son estrellas.
Hoy en Alt.Latino escuchamos a algunos de los artistas nuevos que mas nos gustan de SXSW este año. Además, Felix habla de uno de sus artistas favoritos que se unió al festival, y Jasmine hace una atrevida predicción sobre el futuro del funk carioca.
Como siempre, queremos escuchar lo que piensan ustedes, nuestros oyentes. ¡Si están allí en SXSW, manden fotos!
Alt.Latino: New Latin Artists At SXSW
I'm Queen
from Kiss & Kill
by Le Butcherettes
Sounds Like: An army of Mexican PJ Harveys
Coming At You From: Mexico
Miles De Millas (2000 Miles)
Miles De Millas (2000 Miles)
from Miles De Millas (2000 Miles)
by Gina Chavez
Sounds Like: A perfect mix of latin, folk and bluegrass.
Coming At You From: Texas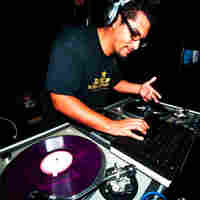 Pa La Escuela Nene
from Pa La Escuela Nene
by Geko Jones
Sounds Like: The songs your grandma sung, over a sick beat your grandma would yell at you for playing too loud in the house.
Comino At You From: New York
Borrale
from EP
by Master Blaster
Sounds Like: Dense, smashing cumbia crunk
Coming At You From: Texas
El Mago
Sounds Like: A patchwork of traditional Colombian sounds stitched together with dance beats.
Coming At You From: Colombia
Pyaar Baile (feat. Meetu Chilana and Zuzuka Poderosa)
Pyaar Baile (feat. Meetu Chilana and Zuzuka Poderosa)
from Pyaar Baile
by DJ Rekha and Dave Sharma
Sounds Like: A bollywood themed party, held somewhere in Brazil.
Coming At You From: England/Brazil/New York
Ready To Fly
from Shed Light
by David Garza
Sounds Like: See title of the song.
Coming At You From: Texas
New Latin Artists Playing At SXSW
Dentro
from Ruido Rosa
by Ruido Rosa
Sounds Like: Van Halen revisited.
Coming At You From: Mexico