¡Hey, Chicas! The Rise Of All-Girl Bands Across Latin America And Spain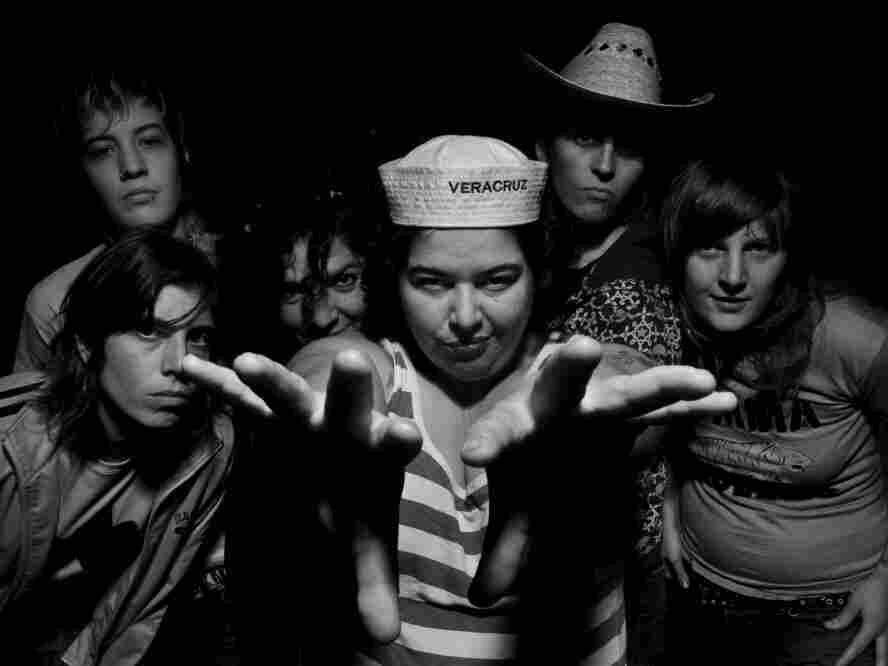 English / Spanish
Earlier this year, Mexican rockers Piyama Party released "Bandas de Chicas," a song that celebrates the growing trend of all-female rock bands in independent Latin music. In this song, Piyama Party see themselves as male groupies: "A guitar is sexy in itself, but with you is truly wonderful." And there's an increasing number of groups that prove them right.
Much of Latin America grew up thinking of Mexican pop star Alejandra Guzman as "La Reina del Rock" ("The Queen of Rock") simply because the media equated her raspy voice with rock 'n' roll. In Mexico, Julieta Venegas and Ely Guerra helped to change that image, while Fabiana Cantilo, Rita Lee and Andrea Echeverri paid their respective rock dues in Argentina, Brazil and Colombia. But as solo acts and gender-mixed groups received their share of attention, Latin all-girl rock bands remained a novelty. Prior to the new millennium, only two all-female groups broke out: Argentina's Viuda e Hijas de Roque Enroll (in the '80s) and Mexico's Las Ultrasonicas (during the '90s). Here's Ultrasonicas doing "Que Grosero":
In that context, what's happening across Latin America and Spain right now is incredibly exciting. In the last few years, many all-girl rock bands have appeared. Some of these groups include Spain's Aias, Mexico's Ruido Rosa and Argentina's new sensation Las Kellies (here's their song "Perro Rompebolas"):
Perhaps the most lauded female band in the region is Costa Rica's Las Robertas, which is dominating the music festival circuit. The band is especially interesting to this topic considering it now has a male drummer, who often decides to wear lipstick, a wig and a dress for promotional pictures.
The common denominator among all these bands is their the post-punk femininity, the fact that they no longer feel obliged to defend a feminist cause or fight an institutionalized male dictatorship. With cutting edge eclectic acts like Chiquita y Chatarra, Kumbia Queers and Violeta Vil, the image an all-girl formation seems destined to lose its novelty — but not an ounce of its appeal.
------------------------------------------------------------------
English / Spanish
Las Mejores Bandas Femeninas De Latinoamérica Y España
A principios de este año, la banda mexicana Piyama Party estrenó "Bandas de Chicas," una canción que celebra el hecho de que cada vez hay más bandas de mujeres en la música latina independiente. En esta canción, Piyama Party se pone en el lugar de groupies masculinos: "Una guitarra por sí sola es sexy, pero contigo es maravillosa." Hoy por hoy hay una gran cantidad de grupos de mujeres que están demostrando que esto es muy cierto.
La mayoria de los latinoamericanos crecimos viendo a la estrella del pop mexicano Alejandra Guzman, a quién se nos vendió como una representante del rock femenino. La prensa categorizó a Guzman como "La Reina del Rock" sencillamente por su brusca voz. En México, Julieta Venegas y Ely Guerra ayudaron a cambiar esa imagen, mientras Fabiana Cantilo, Rita Lee y Andrea Echeverri también aportaron al rock femenino en Argentina, Brasil y Colombia respectivamente. Pero siempre que figuraba una mujer en el rock, era como solista; las bandas de mujeres eran una rareza. Antes del 2000, solo se puede decir que dos bandas de mujeres fueron exitosas: Viuda e Hijas de Roque Enroll, (durante la década del 80) de Argentina y Las Ultrasonicas, de México (durante los 90s).
En ese contexto, lo que está sucediendo musicalmente hoy en día en Latinoamérica y en España es realmente emocionante. En los últimos anos, han surgido muchas excelentes bandas de mujeres incluyendo Aias, de España, Ruido Rosa, de México y el fenómeno argentino Las Kellies (aquí les paso la canción "Perro Rompebolas"):
Quizás el grupo musical mas destacado en la región sea Las Robertas de Costa Rica, una banda que está dominando los actos en vivo este verano. La banda cuenta con un baterista hombre, que muchas veces usa maquillaje, una peluca y vestido para las fotos de promoción.
Lo que todas estas bandas tienen en común es su feminidad post-punk, es decir, el hecho de que ya no se sienten obligadas a defender una causa feminista o pelear contra la opresión masculina. Con grupos innovadores como Chiquita y Chatarra, Kumbia Queers y Violeta Vil, las bandas de mujeres sin duda dejarán de ser una novedad — pero seguirán siendo encantadoras.