The Sounds Of SoCal : Alt.Latino Intrepid musical explorer Felix Contreras brought us back the best of what he found on vacation in California: Mexican-American bands like Los Hollywood and ¡Aparato!
The Sounds Of SoCal
The Sounds Of SoCal
The Sounds Of SoCal
English / Spanish
Road trips are great for gathering just the right music to keep the miles from becoming one long blur. High-energy songs to keep the forward momentum going. Singalongs to wake you up. Moody, introspective sounds to accompany starry nights.
My family's recent midsummer drive from DC to California and back was the first time music was waiting for me halfway through my trip. During my week and a half in Southern California, I felt like the Indiana Jones of rock en Espanol — discovering and collecting enough wonderfully engaging music to make a road trip mixtape for the ride back.
Southern California is one of the world's centers of Latino culture. More Mexicans live there than in any city in Mexico aside from its sprawling capital. And the bands we feature on the show this week illustrate the variety of forms Mexican and Mexican-American music can take, from the politically strident stance of rapper Malverde to the folk-tinged otherworldliness of Aparato.
The homeland is also present in the lucha libre-inspired cumbia of Mexico City's El Conjunto Nuevo Ola. And Los Hollywood give us a taste of what it's like to grow up Chicano and stare up at that famous Hollywood sign. In the Afro-Colombian grooves of Palenke Soul Tribe, we hear that Mexicans aren't the only Latino culture present in SoCal.
I obviously discovered only the tip of the iceberg on this trip. I met quite a few more musical contacts at jam sessions, Latin alternative parties and even taco trucks.
The music is there waiting to be discovered. So put on your Indy fedora and some earbuds and come along for the musical journey. And be sure to tell us in the comments what you've found lately.
Read More about the show in Spanish and see the full list of songs here.
-------------------------------------------------------------------
English / Spanish
Las Increíbles Aventuras De Felix Y Jas En El Sur De California
Los viajes por la carretera son buenísimas ocasiones para eligir la música perfecta, para que cada milla tenga un recuerdo especial. Hay canciones que te dan energía para seguir. Hay canciones que te despiertan. Y hay música introspectiva para escuchar mirando un cielo lleno de estrellas.
Hace poco mi familia y yo hicimos un viaje desde Washington DC hasta California y de vuelta. Durante nuestra semana y media en el sur de California, me sentí como el Indiana Jones del rock en español - descubrí y recogí una increíble cantidad de música encantadora para hacer un excelente mixtape en mi regreso a Washington DC.
El sur de California es, sin duda, un centro de cultura latina. Hay más mexicanos en esa zona que en cualquier ciudad de México- sin contar Ciudad México. Las bandas que destacamos en el show de esta semana demuestran la gran variedad que existe dentro de la música mexicana y chicana, desde el rap activista del artista Malverde hasta la etérea música de Aparato.
La cultura mexicana está presente en la cumbia de El Conjunto Nuevo Ola, una banda del D.F. También Los Hollywood nos dan una idea de como es criarse en una familia Chicana en Los Ángeles y estar viendo todo el tiempo ese letrero de Hollywood tan famoso. Pero solo hace falta escuchar los ritmos Afro-Colombianos de Palenke Soultribe para saber que los mexicanos no son los únicos latinos cuya música suena en el sur de California.
Obviamente durante este viaje, solo descubrí un poquito de lo que es un enorme mundo musical. Presencié mucha buena música, durante sesiones improvisadas, fiestas, y aún mientras esperaba a que preparen mi comida en un típico camión de tacos.
Prepárate para venir con nosotros en este viaje musical. Y por favor cuéntanos en la sección de comentarios que música has descubierto tu últimamente.
This Week On Alt.Latino: Felix and Jas's Excellent Adventure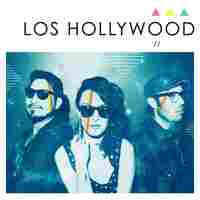 No Te Agüites
from Los Hollywood
by Los Hollywood
Sounds like: Early No Doubt with a bilingual flair.
Coming at you from: Los Angeles and San Diego
Te Busco
from Te Busco
by Los Hollywood
Take On Me
from Take On Me
by El Conjunto Nueva Ola
Sounds like: The 80s got a cumbia make-over.
Coming at you from: Mexico City
Es Mas Grande Que (Hip Hop)
Es Mas Grande Que (Hip Hop)
from El Mixtape Sessions
by Malverde
Sounds like East LA flow with a hint of reggaeton, güey.
Coming at you from: Los Angeles and the border
Note: This is a cover of the Dead Prez song, "It's bigger than hip-hop".
Macaco
from Palenke Vs Palenque
by Palenke Soultribe's
Sounds like some kids from Colombia got lost and found themselves in Los Angeles.
Coming at you from: Los Angeles
Aire
Sounds like blissed-out, magical realist post-punk.
Coming at you from: Los Angeles
Toro Mata
from Toro Mata
by Bang Data + Eva Ayllón
Sounds like: An Afro-Peruvian classic gets an update
Coming at you from: Oakland