Alt.Latino Fall Music Preview
Listen To This Week's Show
Josh Huskin/Courtesy of the artist
English / Spanish
We've had a music-filled summer here on Alt.Latino, with songs for the beach as well as tunes for our listeners in the colder climes of the Southern Hemisphere.
Our Fall Preview is a look at groups releasing CDs or EPs we think are worth listening to from beginning to end. We spent time searching out artists we know, or who are new to us, whose vision carries from track to track.
Singles are the common currency of the digital download age. Fans no longer have to wait for their favorite artists to complete work on an entire collection of songs. For someone like me who grew up during the height of the LP's popularity, collecting singles seemed like a piecemeal way to get to know an artist.
But I've been converted since doing this show. We've discovered many artists who have become favorites, or at least bands we want to keep an eye on, just by hearing one song.
But that's not the case this week.
We have a collection of artists whose new releases are strong from beginning to end: the energetic and fancy flow of Los Rakas from the streets of Oakland by way of Panama, from their album Chancletas y Camisetas Bordada (out Aug. 23), as well as the highly danceable power pop of Brazil's Cansei de Ser Sexy, La Liberación (also out Aug. 23).
We are thrilled to have an entire new collection of songs from Alt.Latino pioneer Andrea Echeverri, Dos (Aug. 30). It was a tough call to select just one, so we didn't. In addition to the track we play on this week's show, you can hear her entire album as a First Listen here.
And it just keeps getting better. We have a world premiere of a new track from one of our favorite up-and-coming bands, San Antonio's Girl In A Coma. Their album Exits & All The Rest is a major step forward for them, and the single we feature is just the tip of the iceberg. But this is a Fall preview and we have to wait until November 1st for the entire album, and there's plenty of other music in this week's show to help that time pass quickly.
-------------------------------------------------------------------------
English / Spanish
Esta Semana En Alt.Latino: Estrenos
Aquí en Alt.Latino hemos tenido un verano repleto de música, incluyendo canciones para la playa y también para nuestros oyentes en los rincones del mundo donde está haciendo mas frío, como en el hemisferio sur.
Hoy tenemos un show de adelantos musicales para el otoño. Escuchamos a grupos que están estrenando discos o EPs que consideramos que valen la pena escuchar desde el principio hasta el final. Hemos tomado tiempo para buscar artistas que conocemos, y otros que son nuevos para nosotros, cuyas visiones artísticas están presentes en cada canción.
En esta época de descargas digitales una canción es moneda corriente. Los fans ya no tienen que esperar a que sus artistas favoritos terminen una colección de canciones. Por mi parte, yo crecí en una época en la cual era popular el LP, por lo tanto basarme en canciones individuales me parece una manera bastante inadecuada para conocer bien a un artista.
Pero mis gustos han cambiado, gracias a este programa. Hemos descubierto muchos artistas que ahora son mis favoritos, o por lo menos cuyas carreras quiero seguir investigando, y a veces esa curiosidad ha surgido de tan solo haber escuchado una canción.
Pero el programa de esta semana no se trata de sencillos.
Tenemos una colección de artistas cuyos estrenos discográficos son fuertes de principio a final: el flow energético y sofisticado de Los Rakas, un dúo que viene de Panamá a través de Oakland, con su nuevo disco Chancletas y Camisetas Bordada (disponible el 23 de agosto). Y también el power pop bailable de los brasileros Cansei de Ser Sexy, cuyo disco sale en la misma fecha.
Estamos super emocionados de poder presentarles una colección entera de nuevas canciones por la pionera de la música alternativa latina: Andrea Echeverri. Su nuevo disco, Dos se estrena el 30 de agosto. Nos costó elegir solo una canción, y finalmente nos dimos por vencidos: además de la canción que estrenamos en el programa de hoy, les presentamos un adelanto de su disco completo aquí.
Esta semana el programa tiene música increíble. Tenemos un estreno mundial de una de nuestras bandas favoritas, Girl In A Coma de San Antonio, Texas. Su disco Exits & All The Rest es un paso enorme hacia adelante, y el sencillo que destacamos es solo el principio. Tendremos que esperar hasta el primero de Noviembre para poder escuchar el disco entero, pero hay mucha mas música en el show de esta semana para ayudarnos a pasar el tiempo.
This Week On Alt.Latino: Fall Preview
Sly
from Exits & All The Rest
by Girl In A Coma
Sounds like: Desert landscapes, punk rock and a little bit of desperation
Coming at you from: Texas
Alegria
from Dos
by Andrea Echeverri
Sounds like: A Latin Alternative rock legend celebrates Mother Earth (and motherhood)
Coming at you from: Colombia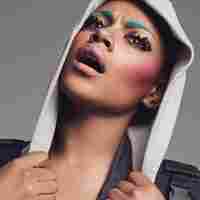 Lola (Ging Danga)
from Massive Pow Pow
by Maluca
Sounds like: A jump rope game in Dominican-accented Spanish
Coming at you from: New York City
Alt.Latino Fall Music Preview
Fiebre De Jack
from Millonaria
by She's a Tease
Sounds like: The 80s in Monterrey
Coming at you from: Mexico
Hits Me Like A Rock
from La Liberación
by Cansei de Ser Sexy
Sounds like: Something you might hear playing at American Apparel
Coming at you from: Brazil
Alt.Latino Fall Music Preview
Super Violão Mashup
from Sem Nostalgia
by Lucas Santtana
Sounds like: The Mario Brothers got their hands on an acoustic guitar
Coming at you from: Brazil
Alt.Latino Fall Music Preview
Recat
from Re: Ecm
by Ricardo Villalobos/Max Loderbauer
Sounds like: One of those dreams where you get stuck in a department store, but in a good way
Coming at you from: Germany
Vengo de Panama
from Chancletas y Camisetas Bordada
by Los Rakas
Sounds like: El flow Californiano with Panamanian grooves
Coming at you from: Oakland by way of Panama
Buy Featured Music
Song

Chancletas y Camisetas Bordada

Album

Chancletas y Camisetas Bordada

Artist

Los Rakas
Your purchase helps support NPR programming. How?