Guest DJ: California Poet Laureate Juan Felipe Herrera : Alt.Latino Alt.Latino celebrates National Poetry Month with Herrera, who discusses the songs that shaped him.
Guest DJ: California Poet Laureate Juan Felipe Herrera
Guest DJ: California Poet Laureate Juan Felipe Herrera
Guest DJ: California Poet Laureate Juan Felipe Herrera
Guest DJ: California Poet Laureate Juan Felipe Herrera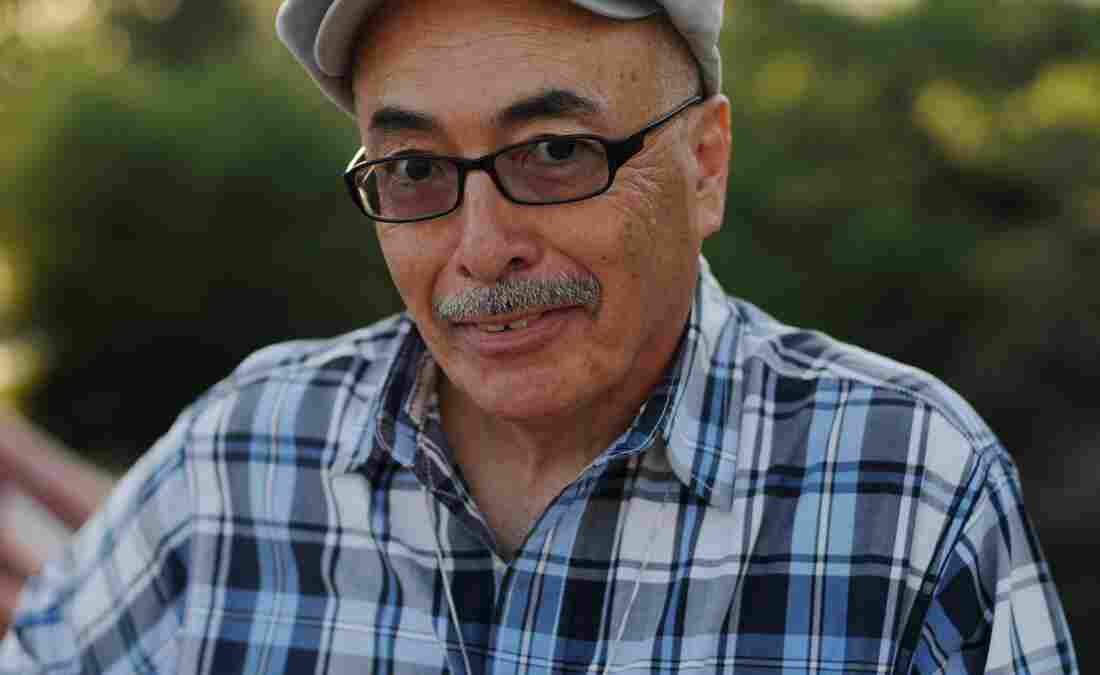 When California Gov. Jerry Brown named Juan Felipe Herrera to the honorary post of poet laureate, he was tapping into a slice of Chicano history.
Herrera came of age during the late 1960s and early '70s, when politics, culture and social change influenced what became known as the Chicano Movement.
At the time, there was no specific artistic or social precedent from which young Chicano artists could draw influence or inspiration. As Herrera says in this discussion, young artists of the era drew from a cross-cultural stew of musical and philosophical sources to create a vibrant new form of expression that was equal parts Mexican and American. In that world, folksingers from Latin America rubbed musical shoulders with Bob Dylan, while Beat poets mingled with Borges.
Herrera and I have a personal history that goes back to the early 1980s, when I was asked to play in his music-and-poetry boogie machine, California's TROKA. Through his words, we were connected to the earliest days of Chicano poetry, a movement with working-class roots and serious artistic aspirations.
As he tells us on this week's show, his own personal story is reflected in a popular Mexican corrido that he included on his playlist. That song, like the rest of the pieces here, has one foot in Mexico and the other in the U.S., an accurate reflection of the Chicano experience. The mix of a search for identity, the politics, the art and the music still keeps Herrera "surfing" as he spreads the power of poetry in his post as the Golden State's poet laureate.
----------------------------------------------------------------------------
Cuando el gobernador de California Jerry Brown le otorgó el titulo de poeta laureado a Juan Felipe Herrera, fue un gran momento para la historia chicana.
Herrera se formó a fines de las décadas de los sesenta y los setenta un periodo repleto de movimientos sociopolíticos y culturales de los cuales surge el movimiento chicano.
No existía ningún precedente social ni artístico para lo que estos jóvenes se proponían hacer. Como el mismo Juan Felipe me dijo en el transcurso de nuestro programa, los nacientes artistas de esta era tomaron prestado libremente del popurrí cultural, musical y filosófico que los rodeaba, para poder crear esa vibrante expresión que era tanto mexicana como estadounidense. En ese mundo que forjaron, los cantautores folclóricos latinoamericanos se reunían con Bob Dylan y los poetas de la generación "beat" dialogaban con Borges.
Juan Felipe y yo tenemos una historia personal que remonta a principios de los años ochenta cuando me invitó a tocar en su banda de música y poesía llamada The Troka Rhythm And Sign Ensemble en California. A través de sus palabras, nos conectábamos a los inicios de la poesía chicana, un movimiento con raíces en las clases trabajadoras y con aspiraciones artísticas.
También nos contó que su propia historia personal se ve reflejada en un popular corrido mexicano llamado "El Contrabando del Paso." Esa canción, y el resto de la música que eligió compartir con nosotros, nos indican que Herrera tiene un pie firmemente plantado en México, y otro en Estados Unidos. Herrera sigue navegando en esa mezcla de búsqueda de identidad, política, arte y música y sigue transmitiendo el poder de la poesía en su nuevo puesto de poeta laureado de California.
Guest DJ With California Poet Laureate Juan Felipe Herrera
Antonio Aguilar
Song: El Contrabando Del Paso
from A Los Cuatro Vientos
Guest DJ: California Poet Laureate Juan Felipe Herrera
Bob Dylan
Song: Masters of War
from Freewheelin' Bob Dylan [Remastered]
Alberto Cortez and Facundo Cabral
Song: Yo No Soy de Aqui
from Cortez No Quita Lo Cabral:
Buy Featured Music
Song

Cortez No Quita Lo Cabral:

Album

Cortez No Quita Lo Cabral:

Artist

Alberto Cortez and Facundo Cabral

Label

EMI Music Distribution

Released

1994
Your purchase helps support NPR programming. How?