A Braid Of Words: Guest DJ Eduardo Halfon, Author Of 'The Polish Boxer'
A Braid Of Words: Guest DJ Eduardo Halfon, Author Of 'The Polish Boxer'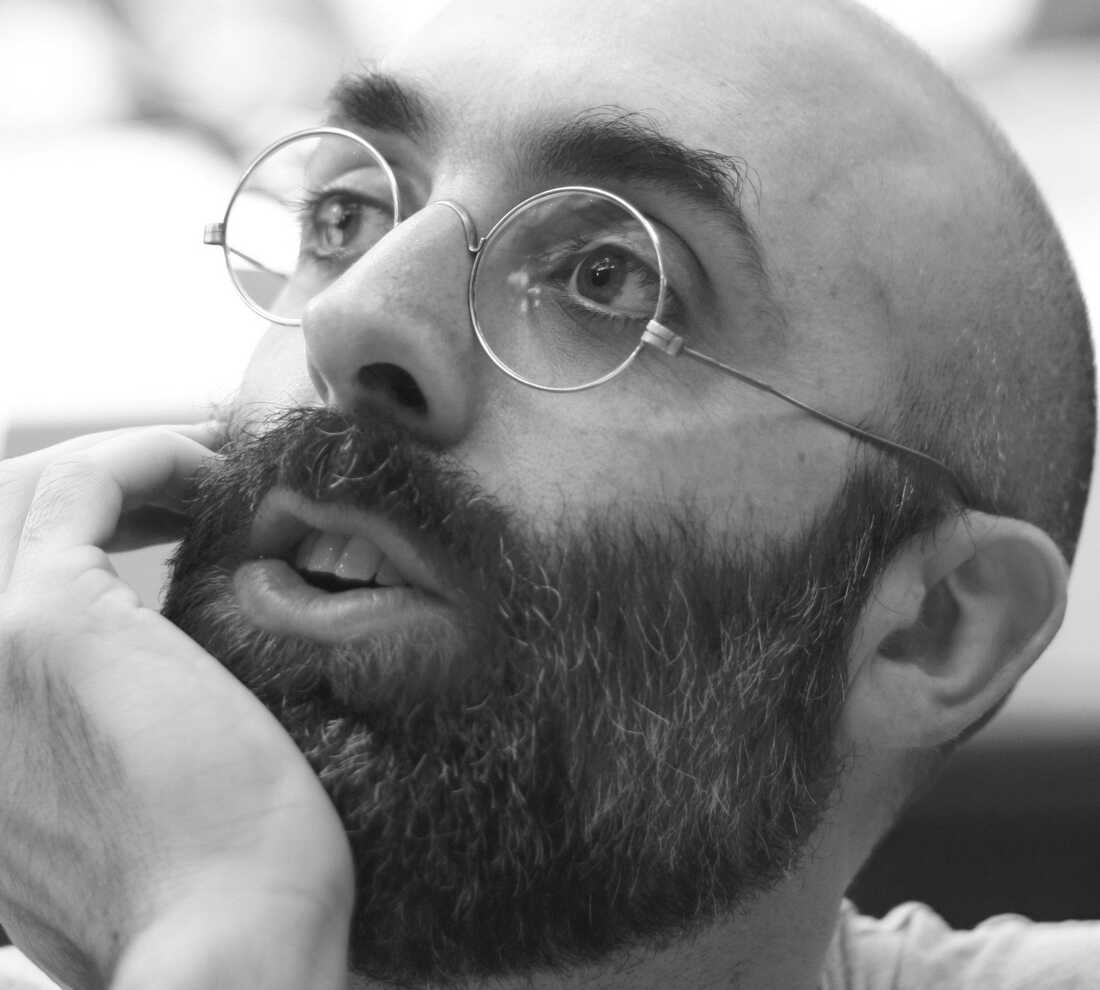 "When he woke up, the dinosaur was still there."
That sentence is one of my favorite stories, and one of the shortest works of fiction ever written, by Guatemalan author Augusto Monterroso. To some, the dinosaur represents life's everyday, unconquerable monsters: love, money, mortality. To others, the dinosaur is Latin America's inescapable violence — as ancient as it is present, viciously devouring generation after generation of its children.
Recently, I've had the pleasure of discovering another fantastic Guatemalan author, who we're thrilled to have on this week's Alt.Latino: Eduardo Halfon. His most recent book, The Polish Boxer, reminded me of the joy of reading Monterroso. It's a collection of autobiographical stories interwoven with marvelous jazz and classical-music descriptions. The topics range from Halfon's grandfather, a holocaust survivor relocated in Guatemala, to Halfon's life as a literature professor in the Central American country. As in Monterroso's work, intense pain and beauty are offset by an unabashedly boyish sense of humor; in the same page, Halfon can skillfully switch from a discussion about intense immigrant alienation to a hilarious observation on the short male attention span for pornography.
In my favorite story in the book, Halfon searches throughout Guatemala for Juan Kalel, his brilliant indigenous student, who has mysteriously dropped out of school. When he finally finds Kalel, they discuss their mutual love of poetry:
"Do you know, Halfon, how to say 'poetry' in Cakchikel?" Juan asked suddenly ... "Pach'un tzij," he said. ... "Do you know what it means?" he asked, and although I hesitated, I said no. ... "Braid of words," he said.
"Braid of words" describes The Polish Boxer itself: Halfon manages to dexterously weave together narratives that seemingly have little to do with each other, yet fit together perfectly. It's only fitting that Halfon picks so much jazz for this week's show.
Perhaps I find Halfon's work so mesmerizing because the process of trying to find a common denominator to this collection feels reminiscent of my first years in this country. During that time, I listened intently, almost anthropologically, to every other immigrant's story I encountered: the horrible ones (a friend from El Salvador who'd spent much of his childhood hidden in a kitchen cupboard during the war, a buddy from Guatemala who'd watched death squads devour his village) and the more mundane ones (a boyfriend who simply got fed up with his lack of opportunity in the Dominican Republic, and wanted a better life). And I wondered what on earth, besides a shared language and colonial past, made us one people. I spent a lot of time palpating the fabric of our "Latin-ness," looking for the seams that connected us. And wondering, are we just the bare threads of the unraveled Spanish empire?
This is one of the reasons Felix and I created Alt.Latino: because we believe that music is one of the threads that make us a tapestry.
After three years of doing this show, I've come to another conclusion: Contrary to every marketing executive's fantasy, there is not one monolithic "Latin" identity. But we do have a collective soul. Like the Two Fridas, we are many bodies with shared veins, through which run music and language and culture. But the less appealing, less "sexy" and certainly less marketable truth is that we are also conjoined by a collective memory of violence. "I guess there's just a meanness in this world," Bruce Springsteen sings in one of Halfon's musical picks for this week's show.
We all wake up to the same dinosaur.
Join us every week on Alt.Latino, as we speak of music, Latin culture and dinosaurs.
-----------------------------------------------------------------------------
"Cuando despertó, el dinosaurio todavía estaba allí."
Esa frase, escrita por el autor guatemalteco Augusto Monterroso, es uno de mis cuentos favoritos, y uno de los relatos mas breves de la literatura universal. Para algunos, el dinosaurio representa los monstruos invencibles que habitan en el trasfondo de nuestra vida cotidiana: el amor, las finanzas, la muerte. Para otros, el dinosaurio es la violencia inescapable de América Latina: antigua y a la vez moderna, ferozmente devorando generación tras generación de sus hijos.
Hace poco tuve el placer de descubrir a otro fantástico autor guatemalteco, Eduardo Halfon, que nos acompaña en el programa de esta semana. Su libro más reciente, El Boxeador Polaco, me recuerda al placer de leer a Monterroso. Es una colección de cuentos autobiográficos, entrelazados con maravillosas descripciones de la música clásica y el jazz. Las temáticas del libro son variadas, desde la historia del abuelo de Halfon, un sobreviviente del holocausto judío que emigró a Guatemala; e incluyen anécdotas de cuando Halfon era profesor de literatura en el país centroamericano. Al igual que en la obra de Monterroso, el dolor y la belleza se contrarrestan con un sentido del humor desvergonzadamente infantil; en una misma página, Halfon puede alternar entre una conversación acerca de la tremenda alienación del inmigrante recién llegado, a una cómica observación acerca de la corta capacidad de atención que tienen los hombres al mirar películas porno.
En mi pasaje favorito del libro, Halfon viaja por Guatemala buscando a Juan Kalel, un brillante estudiante de origen maya, que ha abandonado sus estudios. Cuando finalmente encuentra a Kalel, conversan acerca del amor que ambos sienten por la poesía:
"¿Sabe, Halfon, cómo se dice poesía en cakchiquel?, me preguntó Juan de repente. Le dije que no, que ni idea. Pach'un tzij, dijo él. Pach'un tzij, dije yo. Y me quedé un tiempo saboreando esa palabra, degustándola únicamente por su sonido, por el delicioso encanto de pronunciarla. Pach'un tzij, dije de nuevo. ¿Sabe qué significa?, me preguntó Juan y, aunque vacilé, le dije que no, pero que tampoco importaba. Trenzado de palabras, dijo."
"Trenzado de palabras" describe muy bien a El Boxeador Polaco: con gran destreza Halfon logra tejer narrativas que parecerían tener muy poco en común. Es lógico, por lo tanto, que eligiera compartir tanta música de jazz con nosotros.
Tal vez la razón por la que me cautiva la obra de Halfon es que el intento de hallar un común denominador en esta colección me recordó a mis primeros años en este país. Durante esa época, yo escuchaba fascinada, casi antropológicamente, las historias que me contaban los inmigrantes: las anécdotas horripilantes (un amigo de El Salvador que pasó gran parte de su infancia escondido en la alacena de su cocina, durante la guerra, un conocido de Guatemala que vio como los escuadrones de la muerte se devoraban a su pueblo) y las más mundanas (un novio que simplemente se hartó de la falta de oportunidad en República Dominicana, y quería una vida mejor.) Y yo me preguntaba: ¿Qué diablos tenemos todos nosotros en común, mas allá de un idioma compartido y un pasado colonial? ¿Somos realmente un solo pueblo? Me pasé mucho tiempo palpando la tela de nuestra latinidad, buscando la costura que nos une. Y preguntándome, ¿será que somos tan sólo las hebras del deshilachado imperio español?
No.
Una de las razones por las cuales Félix y yo creamos Alt.Latino, es porque creemos que la música es uno de los hilos que nos hacen un tejido, y no un enredo.
Luego de tres años de hacer este show, he llegado a otra conclusión: contrario a lo que todo publicista norteamericano sueña, no existe una sola y monolítica identidad "latina." Pero si creo que tenemos un alma colectiva. Como Las Dos Fridas, somos varios cuerpos con venas compartidas, a través de las cuales corre la música, el idioma y la cultura. Pero también existe una realidad menos glamorosa, menos "sexy" y menos vendible. Y es que también nos une el horror; la memoria colectiva de la violencia. "Supongo que simplemente hay una maldad en este mundo" canta Bruce Springsteen, una de las canciones que eligió compartir con nosotros Halfon esta semana.
Es decir, al despertar, todos nos encontramos con el mismo dinosaurio.
Sintonicen Alt.Latino todas las semanas y únanse a nuestra conversación acerca de música, cultura...y dinosaurios.
Guest DJ With Eduardo Halfon
Leonard Cohen
Song: Chelsea Hotel No. 2
from Best of Leonard Cohen
Bob Dylan
Song: Don't Think Twice, It's All Right
from Bob Dylan's Greatest Hits, Vol. 2
Tom Waits
Song: Tom Traubert's Blues (Four Sheets to the Wind in Copenhagen)
from Used Songs (1973-1980)
Bruce Springsteen
Song: Nebraska
from Nebraska
Thelonious Monk
Song: Epistrophy
from 'Round Midnight [Definitive Classics]
Dave Brubeck
Song: Thank You (Dziekuje) [#]
from In Your Own Sweet Way
Charlie Parker
Song: Moose the Mooch
from Bird's Nest
Chavela Vargas
Song: Esta Tristeza Mia
from Canta a Mexico