Guest DJ: Frikstailers
When I first transitioned from hard news to music and culture journalism, I worried that I was no longer a "serious" reporter. But a colleague told me that, when done right, cultural journalism can provide similarly profound insight into society, politics and race relations. At Alt.Latino, we're never just oohing and ahhing at the danceable beats and pretty voices. The songs we play — and the conversations we have — tell the story of migrations, of confrontations, of relationships among human beings.
The first time I heard the Argentine duo Frikstailers (DJs Rafa Caivano and Lisandro Sona), I recognized that same desire to tell a story, and I was mesmerized. The music Caivano and Sona created is danceable, hypnotic, and rich, but it's so much more than that. It also fuses cultural currents that run through Latin America: folk, cumbia, pop imported from the U.S. and U.K., and digital beats.
Bands like Frikstailers are kind of the U.N. of music: These different genres represent very different social groups — unfortunately, in Latin America, cumbia and folk are still seen by many as "tacky," a code word for "working-class" — but are brought together in an unlikely but wonderful mix.
It was fun to hang out in Frikstailers' kitchen, drinking tea as Caivano and Sona broke down the ingredients that go into their music. This week's show probably has the most eclectic musical lineup of any we've done. Enjoy!
------------------------------------------------------------------------------
Cuando hice la transición del periodismo de fondo al relacionado con la música y la cultura estaba encantada, pero también preocupada porque ya no iba a ser una reportera "seria". Un colega con quien comenté esto me dijo que, si se hace bien, el periodismo cultural puede aportar una visión igual, o hasta mejor, de la sociedad, la política y las relaciones raciales. Como habrán podido ver, la manera en la que abordamos la música en Alt.Latino no es sólo expresando nuestra admiración por los ritmos que invitan a bailar o las voces bonitas. La música que tocamos y las conversaciones que tenemos cuentan la historia de migraciones, de confrontaciones, de relaciones entre seres humanos.
La primera vez que escuché a Frikstailers, el dueto de DJs argentinos formado por Rafa Caivano y Lisandro Sona, reconocí en ellos el mismo deseo de contar una historia y me quedé fascinada. La música que crean es bailable, hipnótica y rica. Pero también es mucho más que eso. Su música fusiona corrientes culturales que fluyen en toda América Latina, como la música ranchera, la cumbia, el pop importado de Estados Unidos y el Reino Unido y los ritmos digitales..
Las bandas como Frikstailers son como las Naciones Unidas de la música, pues géneros distintos, que representan grupos sociales muy diferentes (por desgracia, en América Latina la cumbia y la música ranchera son considerados como "corrientes" palabra que, para muchas personas, evoca a la clase trabajadora), se reúnen en una combinación improbable pero maravillosa.
Pasar el rato en la cocina de Frikstailer, tomando té y escuchándolos describir los ingredientes de sus recetas musicales, fue verdaderamente divertido. Es probable que el programa de esta semana tenga los representantes más eclécticos de cualquier otro programa que hayamos hecho antes. ¡Que lo disfruten!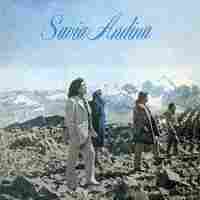 Savia Andina
Song: Desde Que Te Conoci
Garbage
Song: Push It
from Version 2.0
Buy Featured Music
Song

Version 2.0

Album

Version 2.0

Artist

Garbage

Label

Almo Sounds
Your purchase helps support NPR programming. How?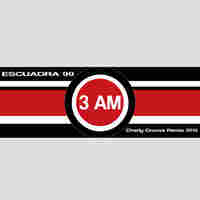 Aca Seca
Song: Huayno Del Diablo
from Huayno Del Diablo
Damian Lazarus
Song: My Red Hot Car
from Other Side: London
Buy Featured Music
Song

Other Side: London

Album

Other Side: London

Artist

Damian Lazarus

Label

Time Out

Released

2005
Your purchase helps support NPR programming. How?
Marilina Ross
Song: Dejame Que Me Vaya
from Dejame Que Me Vaya
Damas Gratis
Song: Alza Las Manos
from 100% Negro Cumbiero
Buy Featured Music
Song

100% Negro Cumbiero

Album

100% Negro Cumbiero

Artist

Damas Gratis

Label

Int'l Latin America

Released

2003
Your purchase helps support NPR programming. How?
Marcelo Fabian
Song: Sed De Mal
from Sed De Mal
Dick El Demasiado
Song: Flaca De Las Coloradas
from No Nos Dejamos Afeitar
Frikstailers
Song: Omeprazol
from ZZK Sounds Vol. 3