Borderland Music: Songs From The U.S.-Mexico Frontera
Borderland Music: Songs From The U.S.-Mexico Frontera
In some ways, borders that divide countries are concrete and inescapable. The border between Mexico and the U.S. is very real for the thousands who have died trying to cross it without papers; for those whose families are divided by it; for those living the nightmare of getting caught in the crossfire of a drug trade that seeps in through the borders' darkest hidden crevices.
In other ways, there's something hubristic and almost naive about trying to divide two cultures with a fence. Language, food, music and people will mix no matter how high the fence, and to try and stop it is like trying to stop a tsunami with your hands.
The mythology surrounding the border has always been powerful. It's a place where the law takes on visible, tangible expressions: a giant wall, a military presence, a fence. Yet border towns are always places of legal ambiguity and cultural transgression.
NPR recently took a trip alongside the U.S.-Mexico border as part of a visually stunning series called Borderland. It was a long drive, during which a lot of music played a key role. Join us for this episode of Alt.Latino as Morning Edition co-host Steve Inskeep regales us with stories of his borderland adventures and the music he collected en route. His notes and anecdotes about the different songs are included in our playlist below.
Borderland Music: Songs From The U.S.-Mexico Frontera
Flaco Jiménez
Song: Ay Te Dejo en San Antonio
from Ay Te Dejo en San Antonio y Mas!
This old tune is played here by one of the great performers of conjunto music, a border style played by a small group, usually including an accordion and a bajo sexto (a kind of 12-string guitar). I discovered this rendition just before our trip, and my colleagues had to hear it 100 times as we passed through the towns where the song takes place, San Antonio and Laredo. It explores an eternal theme of conjunto music, frustrated love. The title translates as "I'm leaving you in San Antonio," but I'm not sure he is. In the final verse of the song, the narrator starts off saying he will dump her. But by the very next line, maybe he's not: "Ya me voy, ahí te dejo en San Antonio, Tu maniita no te la puedo quitar, Hay momentos que pareces el demonio, Cuando mueves la cintura pa bailar." ("Now I am going, leaving you in San Antonio. Your tender hand I cannot give up. There are moments when you seem like the devil. When you move your waist as you dance.")
Norah Jones
Song: Lonestar
from Come Away with Me
I'm really not sure the reference has anything to do with the Lone Star State, but it was magnificent to play while racing across the flatlands between San Antonio and Brownsville. "Lonestar, where are you out tonight?"
Selena
Song: Como la Flor
from 12 Super Exitos
Our group included NPR producer Selena Simmons-Duffin, who in accordance with her Midwestern roots pronounces her name seh-LEE-nah. But when she arrived in Texas she could only be she-LAY-nah, which is the way the famous singer of the 1990s pronounced it. This is one of Selena's hits from before her tragic death in 1995, when she was killed just before her 24th birthday by the president of her fan club. "Yo se que tienes un nuevo amor. Sin embargo, te deseo lo mejor." ("I know that you have a new love. Nevertheless, I wish you the best.")
Intocable
Song: Te Deseo Lo Mejor
from En Peligro de Extinción
In the border town of Zapata, Texas, we met Ricky Muñoz, the lead singer of this group that's hugely popular from one end of the border to the other, not to mention considerable distances from either side of it. Zapata is his hometown. The harmonies in this song are magnificent, and the theme suggested by the title ("I Want the Best for You") is the classic breakup line: It's not you, it's me. "Siempre me diste lo mejor de ti, y que hoy me vaya no es tu culpa. Aunque no creas es mejor así, tú vas a estar mejor sin mí." ("I always gave my best to you. That I am leaving today isn't your fault. Although you don't believe it's better this way, you'll be better without me.")
Intocable
Song: Nos Faltó Hablar
from En Peligro de Extinción
Intocable was influenced by both Mexican music and the 1980s rock the band members heard growing up. This song demonstrates both: At the start, it's virtually an '80s rock tune, and then it transforms about 30 seconds in.
Ramon Ayala
Song: Ya No Llores, Ya No Llores
from Una Carta
This famous musician from the northern Mexican city of Monterrey was a major influence on Intocable. Here, Ayala attempts, diplomatically, to get a despairing woman to stop crying. "Ya no llores mujer ya no estés triste, Por que vas acabarte tu misma, Con tus penas más vas a consumirte, Ya no llores no acabes tu vida." (Don't cry, woman, don't be be sad. Because you're going to hurt yourself. With your sorrows more you'll consume yourself. Do not cry, do not end your life.)
REO Speedwagon
Song: Take It on the Run
from Hi Infidelity
Intocable was also influenced by '80s pop groups; lead singer Ricky Muñoz and I sang a few bars of this hit, which features yet another frustrated narrator: "Heard it from a friend who heard it from a friend who heard it from another you'd been messing around."
Johnny Cash
Song: Cocaine Blues
from At Folsom Prison
This song involves a run across the border to Juarez, Mexico. The version to listen to is from Cash's famous recording at Folsom Prison. When he describes getting high, shooting his woman and taking a nap, the prisoners actually cheer. In fairness, they cheer again when he's caught in Juarez. In the end, the theme is similar to the frustrated love in conjunto music; as in Flaco Jimenez's "Ay Te Dejo en San Antonio," the narrator blames the woman for what he does. "Early one mornin' while makin' the rounds, I took a shot of cocaine and shot my woman down. I went right home and I went to bed. I stuck that lovin' .44 beneath my head. Got up next mornin' and I grabbed that gun. Took a shot of cocaine and away I run. Made a good run, but I run too slow. They overtook me down in Juarez, Mexico."
Marty Robbins
Song: El Paso
from 16 Biggest Hits
I can't think of El Paso, or "the badlands of New Mexico," without hearing this song in my head, and my colleagues had to hear it several times in the car as we approached El Paso. I've seen this described as the perfectly written song, especially because of the way each verse leads into the next. Just as in "Cocaine" and "Ay Te Dejo en San Antonio," the narrator is a confused young man who's frustrated by a woman, with tragic results. "Out in the West Texas town of El Paso, I fell in love with a Mexican girl. Nighttime would find me at Rose's Cantina, music would play and Felina would whirl. Blacker than night were the eyes of Felina, wicked and evil while casting a spell. My love was deep for this Mexican maiden, I was in love but in vain I could tell..."
Bob Dylan
Song: Just Like Tom Thumb's Blues
from Bob Dylan's Greatest Hits, Vol. 2
Only in theory is this song set in Juarez; in reality, it's set inside Bob Dylan's quirky stream of consciousness. But when I told a friend I was going to Juarez, he started singing it. "When you're lost in the rain in Juarez, and when it's Easter time too. And your gravity fails and negativity don't pull you through. Don't put on any airs when you're down on Rue Morgue Avenue."
El Bebeto Y Su Banda Patria Chica
Song: Corazón De Acero
from Corazón De Acero
When Intocable played Juarez on March 8, this popular group was the warm-up act, featuring a handsome young man in purple pants with full-blown brass accompaniment. Once again, the singer is troubled by a woman: "Es que mi corazón para tantas desilusiones no fue diseñado. Si esto fue un juego debiste por lo menos regalarme un corazón de acero." ("My heart was not designed for so much disappointment. If this was a game, you should at least have given me a heart of steel.")
Eric Clapton
Song: Tulsa Time
from Back from the Edge
This is a great road-trip song in any direction, but as it happened, we were moving the same way as the narrator when we played it — "going to Arizona, maybe on to California." Here, the man is going west to pursue his career dreams, though his girlfriend seems unimpressed and doesn't come along."Well, I left from Oklahoma, riding in a Pontiac, just about to lose my mind. I was going to Arizona, maybe on to California, the people all living so fine. My mom called me crazy, my baby called me lazy, but I'm gonna show 'em all this time. Cause you know I ain't no fool and I don't need no more damn schoolin'. Wanna just walk the line..."
Flaco Jiménez
Song: Free Mexican Airforce
from Best of Flaco Jimenez [Arhoolie]
It's the quintessential stoner anthem. "In the city of San Antonio a cowboy is cooling his heels, remembering that God gave us herbs and the fruits of the fields. But a criminal law that makes outlaws of those seeking light made the Free Mexican Air Force — Mescalito riding his white horse — yeah, the Free Mexican Air Force is flyin' tonight!"
Linda Ronstadt
Song: Break My Mind
from Best of Linda Ronstadt: The Capitol Years
A great singer from Tucson, Ariz., begs her lover not to go. "Baby oh baby, tell the man at the ticket stand that you've changed your mind. Well, let me run on out and tell the cab to keep his meter flying. 'Cause if you say goodbye to me, babe, you're gonna break my mind."
Los Tigres Del Norte
Song: Tumba del Mojado
from 16 Super Exitos
Our Mexican colleague Ana Minian was deeply familiar with this song of a man who crosses illegally into the U.S. and finds a job, yet comes to a bad end. "No pude cruzar la raya, se me atravesó el Río Bravo. Me aprendieron malamente, cuando viví al otro lado. Los dólares son bonitos, pero yo soy Mexicano." ("I could not cross the line, I crossed the Rio Bravo. I learned badly, when I lived on the other side. Dollars are nice, but I'm Mexican...")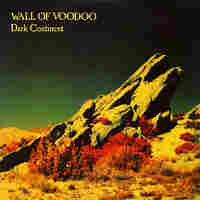 Wall Of Voodoo
Song: Mexican Radio
from Dark Continent/Call Of The West
Our party was deeply divided on the merits of this song, in which the narrator seems to be far from the border, listening to the radio stations that have for generations beamed their signals across the U.S. What I can say is that we played the song while rolling over Mexico's incredible Sierra de Juarez mountains; ever since I was a kid, I have remembered absurdist lines like this: "I wish I was in Tijuana, eating barbequed iguana."
Manu Chao
Song: Bienvenida A Tijuana
from Baionarena [2 CD/1 DVD]
I'm really not sure what the Tijuana Chamber of Commerce thinks of this song, which requires very little translation. Then again, maybe the local tourism promoters would like it. "Welcome to Tijuana. Welcome to Tijuana, welcome to Tijuana. Tequila, sexo y marijuana...."