A Bolivian Folk Singer Walks Into A Portuguese Dance Club...
Chocolate and bacon, watermelon and vinegar, soda and wine — all combinations that shouldn't necessarily work, but do.
This week on Alt.Latino, we've also got some odd combinations that turn out fantastically well, including Bolivian indigenous folk and electronic music, Mexican ranchero pop love songs and more. Tune in — and, as always, let us know about the unusual musical combinations you've been enjoying lately.
Buraka Som Sistema
Song: In A Minute (Clerk Remix)
from In A Minute (Clerk Remix)
Future Brown
Song: Room 302 (feat. Tink)
Luzmila Carpio (Captain Planet Remix)
Song: Tarpuricusum Sarata
from Luzmila Carpio Meets ZZK
Chicano Batman
Song: A Cool Blessing
from Cycles Of Existential Rhyme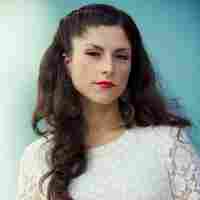 Bocafloja
Song: Mecanica
from Patologias del Invisible Incomodo (Lado B)