Preview New Albums By Café Tacvba, La Santa Cecilia And More With Alt.Latino's Spring Forecast : Alt.Latino Hear what's new in the world of Latin music with 22 albums that run the gamut from roots to electronic, rock, hip-hop, jazz and folk — and all the things that fall in between.
Alt.Latino's Spring New Music Roundup
Alt.Latino's Spring New Music Roundup
Alt.Latino's Spring New Music Roundup
Hear New Songs By Café Tacvba, La Santa Cecilia, La Vida Boheme And More
Alt.Latino's Spring New Music Roundup
There is so much great new music coming out over the next couple of months that I had to hire a truck to deliver all the CDs to Alt.Latino World Headquarters.
Then someone said, "Why don't you just download them?"
A typical "Duh!" moment for an old-schooler who still prefers CDs, or even vinyl. But I digress: This week, we're featuring 22 albums that have been or are being released this March, April and May. We have big names like Café Tacvba, which is putting out its first album in five years. But we're also featuring rising stars like Enrique Infante, an indie artist from Houston whom I met a few years ago at the Latin Alternative Music Conference and who has been making music that deserves a much wider audience. The styles here range from folk to electronic to pop to rock to jazz — and all the things that fall between categories.
It is an extremely healthy time for our little corner of the music world — and, as usual, we try to bring you music you won't be able to find anywhere else. So put on those earbuds and check out the show. Then get to downloading, streaming — or, hey, even popping in that CD.
Ondatrópica
Song: Bogotá
from Baile Bucanero
This collective gets better and better with each album as it settles into a one-of-a-kind take on Afro-Colombian music.
Baile Bucanero is available now.
Café Tacvba
Song: Futuro
from Jei Beibi
These guys have been on the cutting edge for so long they don't know anything else. This single from their upcoming album gives us a hint of things to come.
Jei Beibei comes out May 5.
Nick Hakim
Song: Bet She Looks Like You
from Green Twins
"Up and coming" doesn't do this singer justice — he croons with the passion of someone much older.
Green Twins comes out May 19.
Les Amazones d'Afrique
Song: I Play The Kora
from Republique Amazone
A stunningly beautiful single from an album that defies categorization, all in the name of support for African women.
Republique Amazone is available now.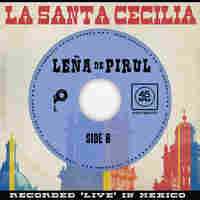 La Santa Cecilia
Song: Leña de Puríl
from Amar Y Vivir
Here's the SoCal band's latest single, from an upcoming visual album recorded in historic Mexico City locations. It looks as great as it sounds.
Amar Y Vivir comes out May 12.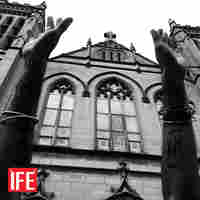 Ìfé
Song: Preludio (Ejiogbe)
from IIII + IIII
This band does things with tradition that move the spirit as well as the body. A major musical statement made with devotion and dedication.
Iiii+Iiii is available now.
Chico Mann and Captain Planet
Song: La Oscuridad
from Night Visions
This amazingly talented DJ duo explores the magic of santería with studio magic and limitless imagination.
Night Visions is available now.
Natalia Lafourcade
Song: Tu Si Sabes Quererme
from Musas
This smart, adventurous, pop-influenced ode to Mexican tradition features musicians who also played with iconic ranchera singer Chavela Vargas.
Musas comes out May 5.
Troker
Song: La Trampa
from 1919 Musica Para Cine
This album promises jazz, electronic music, space jams and beyond, from the Mexican band that pays tribute and defies genres all at once.
1919 Musica Para Cine is available now.
Lara Bello
Here you'll find captivating vocals, astounding musicianship and a creative blending of jazz with music from Spain, Africa and Latin America.
Sikame is available now.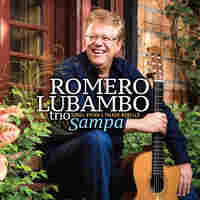 Romero Lubambo Trio
Song: Gostoso Demais
from Sampa
This guitarist is a magician with an unmistakable blend of jazz, Brazilian music and perfection.
Sampa comes out May 5.
Vince Mira
Song: Mujer Perdida
from El Radio
El Radio is a gorgeously atmospheric album from a vocalist you may not know, but will never forget.
El Radio comes out June 16.
Enrique Infante
Song: Las Rutas de la Luna
from El Detalle Que Faltaba
This very talented Houston-based indie musician's work should be heard far and wide.
El Detalle Que Faltaba is available now.
Alex Cuba
Song: Lagrimas de que Llora
from Lo Único Constante
The Cuban vocalist from Canada collaborates with Spanish guitarist Josemi Carmona and percussionist Bandolero.
Lo Ùnico Constante is available now.
Eddie Palmieri
Song: Locked In
from Sabiduria
At 80 years old, the pianist is still making music that challenges and swings — a master musician, for sure.
Sabiduria comes out April 21.
Cilantro Boombox
Song: Love For Money
from Shine
An intoxicating mix of funk with music from Latin America and the Caribbean — and thrilling live shows — have made this band an Austin favorite.
Shine is available now.
Battle Of Santiago
Song: Pa' Bailar
from La Migra
This is just a slice of an album filled with expertly performed innovation on Cuban tradition, from Canada with love.
La Migra comes out April 28.
Combo Camagüey
Song: Paraná
from Macondo Revisitado The Roots of Subtropical Music/Uruguay 1975-1979
Hear some vintage tracks from a collection of roots music recorded in Uruguay between 1975 and 1979 — thanks to Vampisoul Records, a roots label based in Madrid.
Macondo Revisitado is available now.
Quetzal
Song: Get To Knowing
from The Eternal Getdown
This veteran band always ignores boundaries in expressing its love for Mexican roots music. This track features a collaboration with Aloe Blacc.
The Eternal Getdown is available now.
Andres Landero
Song: Cumbia En La India
from Yo Amaneci
Our friends at Vampisoul Records — experts at recovering historic recordings — are putting out this collection of Colombian cumbia accordion by a heralded master.
Yo Amanecí is available now.
Las Cafeteras
Song: La Morena
from Tastes Like LA
This band keeps tradition alive with dedication, imagination and very deep musicality.
Tastes Like LA is available now.
La Vida Bohéme
Another album's worth of contemporary rock from the Venezuelan group adds to its already impressive musical history.
La Lucha is available now.