Alt.Latino's Favorites: The Songs Of 2017
Alt.Latino's Favorites: The Songs Of 2017
"One-at-a-time blasts of groovelisciousness": That's how I refer to the individual songs that make up our most extensive round-up of year-end favorites so far.
That is not to say that the albums these songs came from were not worthy of mention. But sometimes just one song will do. And as you can imagine, there were so many to choose from that I had to call in help.
For the podcast, Jessica Diaz-Hurtado returned to the guest host chair to help facilitate the conversation between some very heavy hitters among Latinx music writers: Suzy Exposito, assistant music editor for Rolling Stone; Marjua Estevez, associate editor at Billboard; and Veronica Bayetti Flores, the co-creator and co-host of the Latinx music podcast Radio Menea. We had a ton of fun, lots of laughs and even a few singalongs!
All the additional blurbs you see below also come from the cream of the crop of Latinx music writers: Jaquira Diaz, Vicky Diaz Camacho, Julyssa Lopez, Janel Martinez, Emily Prado, Marty Preciado, Isabela Raygoza, Eric Torres and Yezmin Villareal.
There will be some things that we miss; that is unavoidable. But we hope this list can get you started in your hunt for a sound you haven't heard yet.
Alt.Latino's Favorites: The Songs Of 2017
"Desencuentro" by Residente feat. SoKo
Puerto Rico's biggest rapper teamed up with Chinese opera singers and Balkan brass players for his debut solo endeavor, which maps his complex ancestry in song. Yet the most evocative track in Residente's self-titled album is this delicate, bilingual chanson. "Desencuentro," or "Mismatch," was the first song he wrote for the album: a reflection on the plights of soulmates whose paths align, but never converge. Sung à la Serge Gainsbourg, Residente's velvet lilt dovetails smoothly with French singer SoKo's lovelorn grit. --Suzy Exposito
"Nunca Paran" by MULA
Dream-pop meets dembow in "Nunca Paran," MULA's glossy tribute to a place where the rum flows and the summer is endless. The Dominican trio treaded murkier paths in their bass-laden 2015 LP, an unprecedented work of Caribbean goth disco, but the forecast is way sunnier in 2017's AGUAS. Producer Rachel Rojas hustles the beat to a double-time, but even the urgency of the rhythm can't break the melancholy that lingers in the Acevedo twins' vocals. Camila Cabello might have vetoed crying in the club this year, but MULA will have you perreando with tears in your eyes. --Suzy Exposito
"For Sarah Baartman" by Nitty Scott
Nitty Scott's album Creature! takes listeners through an exploration of Afro-diasporic identity. A proud Afro-Boriqua, Nitty connects the violence and objectification of South African-born Sarah Baartman, also known as the Hottentot Venus, to the experience of black women today. She raps, "... this is for you, Sarah Baartman, you're an art to these marksmen. Put you in the town square, put you up to buy. And with your wildest cries, I identify. See, I've been on display like items for their eyes." This track will give you chills! --Janel Martinez
"G.O.A.T." by Princess Nokia
From the first line, Princess Nokia's "G.O.A.T." makes you feel like you can take on anything (or anyone) in the skin you're in. Her relaxed yet not-to-be-messed-with delivery is very New York, with the visuals to match. This track is an ode to "weird chicks," skater girls, tomboys and boss babes everywhere. --Janel Martinez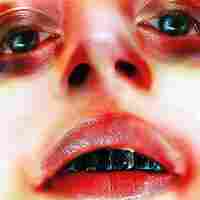 "Desafio" by Arca
Dark, moody, and brooding, "Desafío" is probably the most club-ready song on Arca's (née Alejandro Ghersi) devastating and expansive self-titled album. Using his voice for the first time (at the behest of collaborator and close friend Bjork), Ghersi sings in Spanish in a style inspired by tonadas — folk songs of his home country's agricultural plains — paying tribute to legendary Venezuelan folklorist Simón Díaz. Fascinated with monstrosity and the magnificence of the ugly, Ghersi tempers the driving beats on "Desafío" with sirens and lyrics of a violent and explicitly queer sexuality, situating himself outside of a whitewashed, normative homosexuality and squarely in the sticky, fleshy splendor of deviance. --Veronica Bayetti Flores
"Espejo En Las Azoteas" by MULA
Song: Espejo En Las Azoteas
While many artists attempt to fuse electronic textures with Caribbean rhythms, few do so as effectively and with as elegant an aesthetic vision as MULA does on the album AGUAS. "Espejos En Las Azoteas" is a superb example of this skill, beginning with ethereal vocals and synth stabs that make their way into a dreamy dembow riddim. The song tells the tale of La Cuadrilla Chancleta, a guerrilla group who fought in the Dominican civil war of 1965 made up of queers, trans people and sex workers, remedying the erasure of this group of forgotten freedom fighters from Dominican history. --Veronica Bayetti Flores
"Bodak Yellow" by Cardi B
Cardi B is the cousin some of us know and love, but think twice about inviting to a seat at the table. She's hilarious, but "too loud." Animated, but "too ghetto." Caring, but "rough around the edges." People think twice about bringing Cardi B to a place of bourgeoisie. But knowingly or not, she kicked the door off its hinges, and with "Bodak Yellow," rightfully took up space of her own, because after all, she — we — belong everywhere. While music journalists and critics alike ran circles around the summer chart darling "Despacito," it was "Bodak Yellow" that rang the alarm, with Cardi's venomous re-interpretation of Kodak Black's flow and sharp rhymes marking her timely and brilliant arrival. It ultimately positioned the Dominican-Trini star in the ranks of the incomparable Lauryn Hill. "Bodak Yellow" didn't just earn Cardi a spot in music history (the first woman rapper and only Dominican artist to top the Billboard Hot 100 chart as a solo act in nearly 20 years), it solidified her reputation in hip-hop today. --Marjua Estevez
"Away Away" by Ibeyi
Ibeyi made a joyous return with "Away Away" after an eponymous debut album in 2015. "I don't give up / I feel the pain / But I'm alive," the French-Cuban duo sings — a conscious message of forward movement and resolute action even amid the never-ending circle of beginning and end, of creation and destruction, of night and day. A slight departure from their signature sound (i.e. "River"), Ibeyi keep their Yoruba chants and batá drums, but incorporate more contemporary hip-hop feels. The single prepared fans for the twins' second LP, Ash, which still grapples with a heavy past, but makes room for a bright future. --Marjua Estevez
"Lo Que Siento" by Cuco
"Lo Que Siento" is a crucial nexus of culture, language, identity and sound. Intersecting lines are found throughout this ethereal pop song filled with teen love bathed in heartbreak, oscillating in hybrid duality of Spanish and English and produced meticulously between drum machine-backed rhythms and melancholic trumpet-driven sounds. It's a pop song borrowing from the throes of R&B and Spanish baladas románticas.
Cuco — a 19-year-old self-funded independent artist hailing from Hawthorne, Calif. — holds two EPs with a combined 10 million plays. He, alongside friend and manager Doris Muñoz, is shifting dynamics of power in the music industry: Cuco writes, sings, produces, manages the sky-high user engagement of his social media accounts and tours sold-out dates across the country.
"Lo Que Siento" is more than a song — it's a space where listeners engage and identify, where the complexity of multilayered of the Latinx community is acknowledged. Cuco's output derails from a one-size-fits-all Latino identity, instead nurturing an essence of intersectionality and sound. He's like a star, moving through the galaxy at his own speed and direction. --Marty Preciado
"Ahora Me Llama" by Karol G feat. Bad Bunny
Karol G is in control of her sexual agency and identity in "Ahora Me Llama." A bass-heavy, unapologetic trap anthem to the power of femininity, soiled in hi-hats and heavy sub-bass, the song challenges hegemonic masculinity, singing about respect, love and sex-positive decisions. Karol G's debut album is appropriately titled Unstoppable, and echoes her experiences in creating her own world in a man's world.
In a male-dominated genre, Karol G firmly rattles trap music as space for thought and gender inclusivity. In the remix, the Colombian artist is joined by boricua bad boy and prodigious Latin trap king Bad Bunny. Both deliver a two-way transfer of energy celebrating a woman's decision to live under her own expectations. "Yo soy dueña de mi vida, a mí nadie me manda" ("I am the owner of my life, no one controls me") Karol G confidently states about the ownership, control and enjoyment of her life, femininity and sexuality. --Marty Preciado
"Rican Beach" by Hurray For The Riff Raff
It took leaving New York City for Alynda Segarra of Hurray for the Riff Raff to understand the depths of her Nuyorican roots. On a cross-country quest to separate herself from home, she began to learn about her family's history in Puerto Rico and, in the process, learned more about herself. On "Rican Beach" she revisits the bomba and son sounds synonymous with Nuyorican soul to create an anthem full of fight and resilience. The upbeat, bass-heavy track is a battle cry against gentrification and a call for cultural preservation. As she repeatedly sings "I'll keep fighting till the end," unfettered and dripping with grit, the recent hurricanes on the island ensure her promises ring even louder. --Emilly Prado
"Tyrant" by Kali Uchis
Kali Uchis dons a powder pink Miami Vice power suit in the video for "Tyrant." In a song about diving into the arms of a new lover, Uchis finds power in the unknown and doesn't have time to worry about what comes next. Seamlessly interlacing her own Spanish and English lyrics, she sings about the hypnotizing daze of new affairs — slightly dangerous, but too good to stop. British R&B singer Jorja Jones delivers a gently raspy verse that oozes with tranquility and bewilderment. Layered over a track of simple keys and the ring of hi-hat, Uchis and Jones' entrancing vocals carry us along, making sure we're tangled right up in there with them. --Emilly Prado
"Tú Serás" by Danay Suárez feat. Aja Monet
Song: Tu Serás (feat. Aja Monet)
Opening with lines from resistance poet Aja Monet's complicated and powerful "What I've Learned," Danay Suárez's "Tú Serás" recalls an earlier decade. I keep returning to this understated gem, with its jazz groove and elegant vocals. Listen with your eyes closed, and learn "how to be broken and put together again." --Jaquira Diaz
"Guerra" by Residente
Charged with boisterous wit, metaphor, and conflict, Residente's "Guerra" is rife with pain and rage and poetry. This song is a rising crescendo that transcends borders, echoing the political climate of our times, the artist ready to explode. He proclaims: "I am made of war." --Jaquira Diaz
"Go To Hell" by Empress Of
Empress Of (Lorely Rodriguez) gets right to the point in "Go To Hell." But she doesn't get there in a brash, cold way. Instead, Rodriguez lures the listener in with a catchy, danceable beat that will have anyone singing along as she addresses the naysayers who wronged her. She says she sings "herself the blues," but the music behind her vocals will convince you to look back at the past with new eyes. "Go To Hell" is the unexpected middle-finger-to-the-world anthem that makes you feel like you're at a party with your best friends, laughing and dancing to a pop song that makes you forget you ever felt pain. --Yezmin Villareal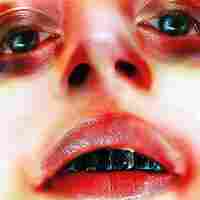 "Piel" by Arca
Arca (Alejandro Ghersi) doesn't ask you to hold his hand as he walks you into the world he creates in "Piel," a song all about shedding the skin that peels off your body as you slowly merge into the new you. Arca creates a scene that evokes the feeling of wading through darkness in a warehouse where your eyes are covered, while he hums into a microphone about letting go of the person you once were. It is in this place where Arca can fully explore and examine himself — and gives others permission to do the same. Distortion and reverb channel in and out as Arca sings about releasing the past to make space for the future. --Yezmin Villareal
"Que No" by Café Tacvba
It's love at first strum. Propelled through the aeolian lilt of the chord progression, Café Tacvba plunge into deep emotion on the mesmeric "Que No." Whether written for an ex-lover or confronting a self-deteriorating addiction, the sweeping, bittersweet ballad brims with passion, evoking an array of love's complexities: dependency, vulnerability and heartbreak. The subtle, elegant flourishes, paired with Ruben Albarrán's breathtaking vocals, only intensify as the song unfurls as the mercurial quartet reminds us about the strains of letting go. It's love-letter brilliance at its most poignant. --Isabela Raygoza
"Soldado Sin Cara" by Los Macuanos
Through their turbulent and militant dance grooves, New York-by-way-of-Tijuana duo Los Macuanos expel a tribal-plagued frenzy on "Soldado Sin Cara." Summoned in the wake of sociopolitical terror in Trump's America and Mexico's ongoing cartel war, the urgent, incendiary chorus points to the unknown soldiers — whether activists, freedom fighters or embattled drug lords — who've perished at the hands of governmental corruption. In over eight minutes of dance-worthy gloom, the suspenseful electronic cut rages against tumultuous techno minimalism and eerie atmospherics while the ruidoson producers muse on visions of doomsday. It's punishing, provocative and bitter. And it raises desolation to avant-garde grandeur. --Isabela Raygoza
"Frio" by Buscabulla feat. Helado Negro
Song: Frio ft Helado Negro
Sink into "Frio" by Buscabulla — it's suave, like Helado Negro frontman Roberto Carlos Lange says in the chorus. The song pulses with a blend of spacey synths and periodic hints of tropical flavor — traditional Puerto Rican tumbao, for example. The vocals are perfectly synced, at times overlapping, other times a call-and-response. The tune is a must-listen, both for the mesmerizing collaboration and for its message: beckoning for the warmth of the island during the dead cold of winter. For a warmer-climate-loving chica like me, this song speaks to the soul. --Vicky Diaz Camacho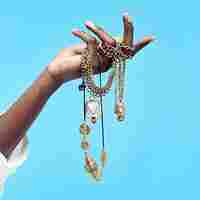 "Little Ones" by KWAYE
"Little Ones" is an anthem of embracing nonconformity. KWAYE (Kwayedza Kureda) is a Zimbabwean-British artist who knows how to orchestrate sounds, rhythms and vocals. (He is a multi- instrumentalist who has played the sax, viola and guitar.) In this song his voice soars over heavy synths and bass. What hooked me were those lyrics that transform a narrative from "she" to "he" then "we." The message packs a punch: "We try to break the mold / A life cannot be told / Put me in a box I don't wanna." And somehow, he's forged a seamless fusion of Seal- and Prince-style vocals. KWAYE evokes Prince not just in his voice, but also in the message of this anthem of nonconformity and youthfulness: "Take your label and wear the right color / You see that in our hands we hold the plans / And the innocence of the little ones." The song is emblematic of the times; let it play on repeat and sing it loud. --Vicky Diaz Camacho
"Baby" by Coral Casino
Since 2014, Buenos Aires duo Coral Casino has been fine tuning a contemporary, slinky style of R&B by pulling elements from dancehall, reggaeton and synth-pop while alternating between Spanish and English language vocals by members Lara Artesi and Roque Ferrari. For "Baby," a bruised slow-burner sung by Ferrari, they turned to producer Teen Flirt of Finesse Records, the Mexican netlabel vivifying sensuous club-R&B scenes across Latin America. The collaboration is a worthy fit — screwed-down synths, trilling piano and sparse beats give Ferrari's lovelorn lyrics ample room to languish, turning "Baby" into an HD rendering of old-fashioned body music. --Eric Torres
"Tártaro" by Buscabulla
"Tártaro" is titled after the nickname given to '80s Puerto Rican salsa erótica legend Frankie Ruiz. For Raquel Berrios and Luis Alfredo Del Valle, the New York–based husband-and-wife duo that comprises Buscabulla, it's a winking way of intimating the song's sultry, sun-kissed sound before you even hit play. But for all its daydreamy keyboards and balmy percussion, "Tártaro" has dark and scuzzy corners of its own, with Berrios' lyrics, which hint at forbidden affairs, befitting a self-described "love letter" to Ruiz. The song's music video was even filmed at San Juan's infamous sex motel Hotel OK, heart-shaped hot tub and all. --Eric Torres
"Nomada" by Kaleema
Producer/composer Kaleema's album Nomada takes listeners through a twinkling sonic landscape inspired by her experiences all over the globe. The album's title track is a fragile trek into the artist's world of eclectic influences: a gimping beat is a nod to the time she's spent learning about Afro-Colombian rhythms in Bogota; intricate electronic arrangements highlight the delicate composition skills she picked up as a classically-trained violinist in Argentina. The song is gently balanced and airy, and eventually, Kaleema's diaphanous vocals guide it to territory that feels mystical and undiscovered. --Julyssa Lopez
"Tu Y Yo" by La Favi feat. Deltatron
For the last few years, Bay Area singer La Favi has been stretching gauzy, flamenco-inspired vocals over melancholy reggaeton and dembow beats. "Tu Y Yo" might be her gloomiest production yet — the baroque love song sees her teaming up with Peruvian beatmaker Deltatron, who weaves a touch of trap into a throbbing dembow rhythm. The track unspools into an operatic mini-drama as La Favi's voice intensifies, showing off her sky-high range — and hinting at the possibilities available when influences as wide-ranging as trap and canto jondo pour into reggaeton. --Julyssa Lopez