A Frightening Delivery: The Dad's Point Of View
Last week, Loriani Eckerle told the story of having emergency surgery to save her life during the delivery of her daughter, Valentina, at 34 weeks pregnant. She was unconscious for various periods of time. Her husband, Matt, shares the story of that evening from his point of view.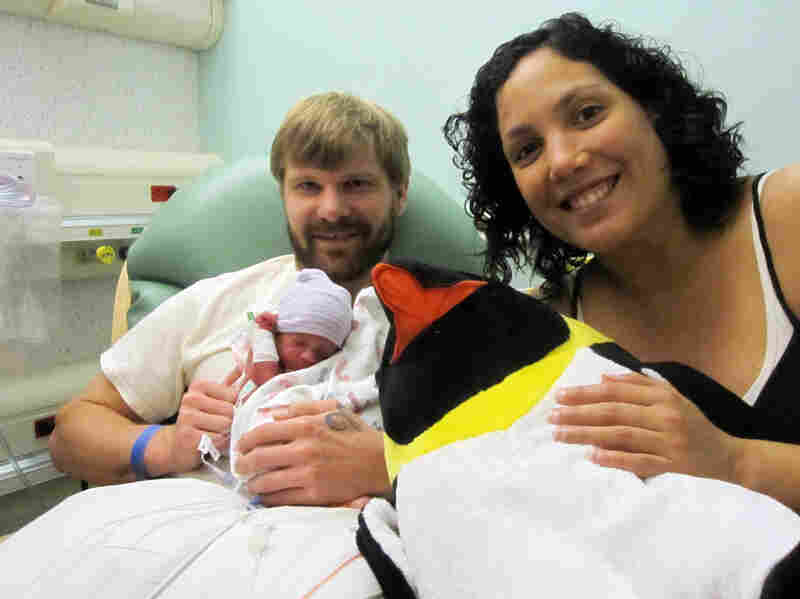 Courtesy of Loriani Eckerle
Lori had been calling me regularly with updates and kept insisting that I shouldn't leave work. She said it was probably nothing big. I was getting less and less comfortable about being across the bay from her, so I left anyway.
I was on my way to the train at around 3:00 or 4:00, when she called me crying. She said that there was something wrong with her blood, and they might have to deliver the baby that night.
I told her I'd be right there. I dropped off our dog off with our friend Alex on my way out of San Francisco, and stopped at our house in Oakland to get Lori's labor and delivery suitcase, which she'd packed weeks earlier. I made it to the hospital in Berkeley about an hour and a half after the call. At that point, Lori was pretty calm. The doctors were telling her that they might be able to treat her without delivering "Cupcake," and she was holding on to that hope.
About Loriani
Loriani Eckerle, 31, from Oakland, Calif., is a first-time mom with her husband, Matt. Their daughter was initially diagnosed with Mosaic Trisomy 16, but was born healthy after a dramatic delivery.
It wasn't long before they decided to do a C-section. The OB explained that Lori's platelets were so low it was already risky to give birth due to blood loss without proper clotting. They didn't know what was causing the problem with her blood, but they were hoping that it was the pregnancy and that delivering the baby would make her better. They wanted to do it right away, because delivery would get more dangerous if her platelets got any lower.
They started pumping her full of platelets and other blood products before the operation in hopes that it would help her blood clot. Lori gave me strict instructions for when she came to: Tell her if the baby's OK. Tell her if it's a boy or a girl. Then tell her if she was going to be OK.
As they were wheeling her to the OR, she asked me if I was scared. "No," was the hardest lie I ever had to tell someone. My wife and unborn child were about to go under the knife. Both faced some grim possibilities. I was terrified.
Lori was in the OR for over two hours. Alex came to keep me company while I waited, a welcome distraction. Even so, I was pacing by the time Lori came out. She was still unconscious and on a respirator. The OB told me that she lost a lot of blood but was stable. They were taking her to the ICU to give her blood and "wait and see." They couldn't rule out more operations, but they were hoping to avoid any. I couldn't go into the ICU until they had some time with her.
Courtesy of Matt and Loriani Eckerle
What about the baby? I had somehow missed her, she came out so fast, screaming her head off. The OB insisted she was totally fine, and I should go see her in NICU.
Seeing Valentina for the first time was incredible. At first I was very objective, asking the nurse questions about her health, trying to decide if she looked like me. And suddenly everything changed. I put my finger to her hand and she gripped it hard. My guard went down, and she owned me. Convinced my daughter was completely fine, I went back to my wife.
When I got into the ICU, Lori was having only brief periods of awareness. Every time she woke up, I told her the story: Baby is doing fine. A 3 pound, 5 ounce girl came out breathing all by herself. The nurses told me Lori wouldn't remember anything, but I wanted her to know anyway. I stayed up watching her until 4:00 or 5:00 in the morning, and then slept on two chairs pulled together next to her bed. At about 6:30, I woke up to find our friend Vanessa holding a cup of coffee under my nose.
As I was updating Vanessa, Lori woke up and asked for something to write with. She asked again about the baby, but this time she would remember my response. Now she wanted to see "Cupcake," and she wanted the breathing tube out of her throat. She was very persistent on these two points, even without speech. Lori was back. We weren't out of the woods, but she was back.
---
Loriani has since been discharged from the hospital. Valentina is still in the NICU, but is doing fine and is steadily gaining weight. You can read an update from Loriani here.