Top 10 Classical Albums Of 2012 : Best Music Of 2012 Ten albums released this year that you absolutely, positively won't want to miss — from marquee artists like Cecilia Bartoli and Michael Tilson Thomas to fresh discoveries, including American composer Michael Harrison, Denmark's Vagn Holmboe and a forgotten Baroque man of mystery.
Top 10 Classical Albums Of 2012
Michael Wilson/courtesy of the artist
At first glance, our top picks for 2012 may seem to range far and wide, from a fresh take on an epic late Beethoven string quartet to cellist Maya Beiser playing spaciously layered new music by Michael Harrison. What unites this diverse bunch is a spirit of discovery — not just in new music that we'll return to again and again but in the artistic energy that animates each of these projects. This electricity flows through newly created works like Esa-Pekka Salonen's Violin Concerto, but it also sparks music that has become second nature, such as Bach's St. Matthew Passion, released this year in a revolutionary production directed by Peter Sellars. These are recordings that stand apart as vivid and vital, challenging and incredibly exciting.
Cello Concerto in E minor, Op. 85 [1. Adagio - Moderato]
Alisa Weilerstein: Elgar And Carter - Cello Concertos
It's the Elgar cello concerto that has drawn most of the attention for this recording, in which MacArthur "genius" cellist Alisa Weilerstein teams up with the Berlin Staatskapelle and superstar conductor Daniel Barenboim, whose late wife Jacqueline du Pre fairly owned this work. Inasmuch as Weilerstein draws out many brilliant and deeply felt currents in this early 20th-century concerto — one of the staples of the cello repertoire — it's the performance of centenarian-plus Elliott Carter's astringently jocular cello concerto that is arguably even more of a draw, at least among Carter fans. Released just weeks before Carter's death at age 103, this album packs some emotional punches that couldn't have been foreseen when it was recorded. (Even after he turned 100, Carter seemed destined for literal immortality.) But more than that, it's brimming with smart, beautiful and fully present performances. (AT)
Adagio ma non troppo e molto espressivo
Brooklyn Rider: Seven Steps
The centerpiece of this album is Beethoven's massive, mysterious String Quartet No. 14 in C# minor, Op. 131. The young New York-based quartet Brooklyn Rider gives the music a very different spin, sliding from note to note sometimes in what some purists would call excessive portamenti. The players want to uncover the vocal aspects of Beethoven's music, presenting themselves as singers of a song. It's a bold step that pays off in the expansion of the music's legato lines, in what is a brand-new view of an often-heard piece. (TH)
Più non v'ascondo (Tassilone)
Cecilia Bartoli: Mission
Cecilia Bartoli has a habit of digging up forgotten composers. Her latest bit of musical archaeology is the mysterious Agostino Steffani, whose bio reads like a spy novel (Bartoli's research has actually inspired a new thriller based on his life). In the late 16th century, Stefani multitasked as a political operative, priest and diplomat. He's not much more than a footnote in music history, but Bartoli is changing that with Mission, featuring performances rich in detail and wonderfully accompanied by the period orchestra I Barocchisti (and another wacky album cover). Stefani's opera arias — most have never before been recorded — range widely, from frothy delights to rapid-fire coloratura numbers to long-lined, lovesick laments. (TH)
War Requiem, for soprano, tenor, baritone, boys' voices, chorus, chamber orchestra, orchestra & organ, Op. 66 [Dies irae. Dies irae]
Gianandrea Noseda/London Symphony Orchestra: Britten - War Requiem
You know how sometimes when you go to a live performance, it's so great and so vivid that you don't remember just the music, you recall the little details of the exact time and place — where exactly you sat, the temperature of the air, the smell of the space? That was my experience hearing the London Symphony Orchestra and Chorus, conducted by Gianandrea Noseda, perform Britten's War Requiem last year at New York's Avery Fisher Hall: haunting, sobering, even shocking — and utterly gorgeous. Tenor Ian Bostridge and bass Simon Keenlyside's elucidation of the poetry by Wilfred Owen was just heartbreaking. It this recording the LSO and company made as they were touring the Britten equally memorable? Yes, yes, yes. (AT)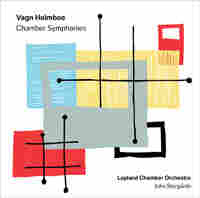 Chamber Symphony No. 1, Op. 53 [4. Allegro assai]
John Storgårds/Lapland Chamber Orchestra: Holmboe - Chamber Symphonies
In 1996, when Danish composer Vagn Holmboe died (at age 86) his music was practically unknown in this country. But the few adventurous listeners who followed the series of Holmboe symphony recordings released on the Swedish label BIS in the 1990s got to know a fascinating artist of great integrity and compositional prowess. Now the Danish label Dacapo has released energetic performances of his three chamber symphonies with John Storgårds leading the agile Lapland Chamber Orchestra. Holmboe's music can be austere with melancholy or buoyant with color, but is always expertly crafted. Think of these three solid chamber symphonies in terms of sleek mid-century modern Danish furniture: deceptively simple, even glamorous lines; smooth, a little aloof, yet very sturdy. (TH)
Ligeti: Piano Études: Book One: VI. Automne à Varsovie
Jeremy Denk: Ligeti/Beethoven
Jeremy Denk is smart. Really smart. But that doesn't make him a dweeb at the piano. His performances of terrifyingly difficult music — like Ligeti's finger-crushing Etudes — seem as natural as the weather, but with a decidedly personal stamp. His curiosity and wit also surface in his writing for The New Yorker, NPR Music, Newsweek and the New York Times Book Review. (The MacArthur "genius" award seems like a future no-brainer.) This coupling of Beethoven's final, forward-looking sonata with Ligeti's Etudes is fascinating. (TH)
Violin Concerto [1. Mirage]
Leila Josefowicz: Salonen - Violin Concerto
I love it when a new piece of music has the power to pull you in from its very first bars. Esa-Pekka Salonen's Violin Concerto, performed to perfection with Salonen conducting the Finnish Radio Symphony Orchestra and accompanying its dedicatee, MacArthur "genius" grant winner Leila Josefowicz, opens with darting violin figures and a glowing vibraphone setting an agitated tone for a violin nearly in constant motion. Salonen's eclectic soundworld brims with transparent colors, shifting rhythms and, in the third movement, arena rock-style drumming. (It's no doubt the first concerto to feature a duet between violin and high-hat.) The beautiful final movement, titled "Adieu," with its mysterious chords and long, lyrical violin lines, is Salonen's musical farewell to the 17 years he spent as music director of the Los Angeles Philharmonic. (TH)
Just Ancient Loops, for multi-track cello [1. Genesis]
Maya Beiser: Time Loops
Maya Beiser is a gifted, TED Talk-ing young cellist, unafraid to push her instrument in many genre-blurring directions. On her recent album Time Loops, she conjurs a chorus of cellos, looping herself electronically in a handful of fascinating compositions by Michael Harrison (with stops along the way for music by Arvo Pärt and Bach). "Just Ancient Loops," with its evocative drone and pizzicato opening, unfolds like a journey. The music, with its blend of East and West, soars in interlocking swirls of color, rests in a central chorale and builds steam to an ecstatic conclusion, sounding as if it had always been here. (TH)
Short Ride in a Fast Machine, fanfare for orchestra
Michael Tilson Thomas/San Francisco Symphony: Music Of John Adams
By this point, Michael Tilson Thomas and the San Francisco Symphony have music by John Adams embedded in their DNA, as these dynamite performances proclaim. Adams once described the brilliant fanfare Short Ride in a Fast Machine (which shares this disc with the deeper, more sumptuous and substantial Harmonielehre) as a "cranked up high-velocity orchestral juggernaut." And it certainly feels that way — like you're churning and spinning at a million miles an hour, fueled by the insistent pulse of a woodblock. (AT)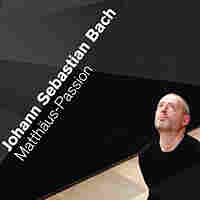 Simon Rattle/Berlin Philharmonic: Bach - St. Matthew Passion
The way director Peter Sellars has semi-staged Bach's massive biblical story is subtle and ingenious, a beautifully intimate ritual. Choristers and soloists have memorized all of the music, allowing the musicians to interact with each other like a community working through issues, drawing forth the humanity of the drama. The evocative, aching performance by Mark Padmore as the Evangelist is a career high point for the British tenor. (The 2-DVD set is only available via the Berlin Philharmonic shop.) (TH)