Robin Hilton's Top 10 Albums Of 2012
I'm always amazed by the bottomless well of human creativity. Every year around this time I reflect on all the phenomenal music that came out, and wonder how on earth there could possibly be any more to hear. Surely we've exhausted all of our ideas. And yet, January rolls around, and new albums by new artists start pouring in, filled with new sounds and voices. We'll never run out of music.
Most of the stuff I fell in love with in 2012 was big and loud. Even the normally quiet Sharon Van Etten and Cat Power got relatively noisy on their latest records. I'm not sure what was going on in my life that drew me to the hard and heavy more often this year. I did take up cage fighting and I joined a 12-step group for people with latent rage issues. Regardless, it was an amazing and endlessly rewarding year for anyone who wanted to rock.
That said, I did include a few quieter, more introspective albums on this list to mix it up ... with apologies to Metz, JEFF The Brotherhood, Dum Dum Girls, The Bleeding Knees Club, Deafheaven, Mind Spiders, Dinosaur Jr and too many more to mention.
Robin Hilton's Top 10 Albums Of 2012
1. Cat Power, 'Sun'
Sun is a triumph. In the six years since she released her previous batch of all-new songs (2006's The Greatest), Cat Power's Chan Marshall suffered a nervous breakdown, was crippled by debt and went bankrupt. She also trashed all the new songs she'd originally written for Sun after a friend told her they were too sad and familiar. With her life in turmoil, Marshall took time off, only to return with the biggest, most sonically adventurous album of her career. Marshall appropriately calls Sun her "rebirth," and it is. It's also the best record she's ever made.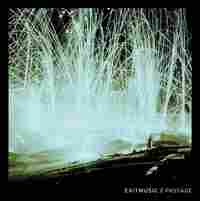 2. Exitmusic, 'Passage'
It was a tough battle between this and Sun for my number one spot. Aleksa Palladino and Devon Church, the married, Brooklyn-based duo behind Exitmusic, crib from the dark palette of ambient rock sounds made popular by earlier groups such as Portishead or The Jesus and Mary Chain. Though Passage strikes a familiar tone, nothing in 2012 sounded quite like it; it's a dark, sludgy beast of a record that broods and rumbles, full of anger and anguish and loneliness, before erupting in a squall of tortured release. It's mostly bleak and intensely emotional, but also beautiful.
3. Ty Segall, 'Twins'
Song: Thank God For Sinners
No other artist in 2012 equalled the creative force (or output) of Ty Segall. The singer and multi-instrumentalist, originally from San Francisco, released three gritty, loud garage-rock records this year, finishing in October with his best of the bunch, Twins. It's a monster album, with explosive guitars, thrashing beats and shredded blasts of insanely catchy hooks and turns. Segall, who's just 24, plays in a half-dozen bands and has dropped more than a dozen records in the last four years alone. A lot of musicians would consider Twins the peak of their career. In the case of Ty Segall, it's thrilling to know he's just getting started.
4. Sharon Van Etten, 'Tramp'
It's hard to overstate Sharon Van Etten's growth as a singer, a songwriter and performer, from her earliest, self-released home recordings, to this year's monumental Tramp. Despite its humble title, Tramp is the boldest, most confident record of Sharon Van Etten's short career. The Brooklyn-based singer, whose earlier records were quiet, spare and mostly acoustic, embraces driving rhythms and rumbling electric guitars here, with songs that build and soar epically. It's one of the year's most potent records from a singer with one of the most beguiling voices to emerge in recent years.
5. Hospitality, 'Hospitality'
Few records ever feel as good as Hospitality's felt in 2012. The Brooklyn trio's self-titled debut bounces along for barely 30 minutes, but is so meticulously crafted and curated, you get more infectious melodies, sweetly wistful meditations on life, and charm than even the sunniest bands pack in an entire career. Singer Amber Papini affects a vaguely British (and adorable) accent as she sings blithely about falling in love, fading friendships and post-college disappointments. In the noise of everything I heard this year, Hospitality was the coziest listen.
6. Kishi Bashi, '151A'
The crypitc title to K Ishibashi's stunning debut record says a lot about the spirit of his music. A literal translation of the numbers 151 and single letter "a" in Japanese, "ichi go ichi e," is a homophone of a phrase meaning, roughly, "enjoy every encounter for it may never come again." It's the kind of uninhibited joy that bursts from every song on 151a, particularly on its most popular track, "Bright Whites." K Ishibashi (who records and performs as Kishi Bashi) is a singer and violinist with a remarkable gift for building and layering his own voice and instrumental parts until he sounds like an entire symphony, with a full choir. No other album in 2012 got this big or beautiful.
7. Sic Alps, 'Sic Alps'
For its fifth, self-titled release, this San Francisco-based band takes one part jangle-pop, mixes it with two-parts garage rock, and runs it through some damaged, thrift-store amps cranked to eleven. Things got loud in 2012 and Sic Alps (a sometimes side project for Ty Segall) put out one of the year's best blasts of infectious noise. But Sic Alps wasn't just a bunch of frenetic banging. The band takes some quieter, more thoughtful turns on songs such as "Thylacine Man," and the spare, piano ballad that closes the record, "See You On The Slopes." This is Sic Alps' most polished and fully realized album. It's also the band's best.
8. Patrick Watson, 'Adventures In Your Own Backyard'
Of all the albums I heard in 2012, Patrick Watson's Adventures In Your Own Backyard packed the biggest emotional punch. Listening to this Canadian singer and multi-instrumentalist's music is always a journey, filled with mystery and wonder. The songs unfold as delicately as they do majestically — part pop, part classical, a little whimsical, but darkened by shadows. The album title, Adventures In Your Own Backyard, evokes images of children playing in the fantastic world of their own imaginations, which is appropriate for a record that makes you believe in magic.
9. Alt-J, 'An Awesome Wave'
At first listen, this is one of the most puzzling albums of the year. The songs are nearly impossible to classify, sometimes incoherent, and singer Joe Newman has a voice that's a bizarre cross between Elmer Fudd and an even more affected Dave Matthews. And yet, An Awesome Wave won Britain's prestigious Mercury Prize, has sold hundreds of thousands of copies and even wound up at the number one spot on Bob Boilen's personal Top Ten for 2012. If you're looking for a way into this record, start with the underpinning sounds and rhythms of each song, not what's right out front. Sonically it's one of the year's most mesmerizing albums. Then there are the sharp and sudden yet beautifully fluid turns each song takes. They constantly change and evolve like the spinning wheel of a kaleidoscope. I came to this record a little late in the year. With more time, it could climb a lot higher on my list.
10. Jason Lytle, 'Dept. of Disappearance'
Song: Dept of Disappearance
This is Lytle's second solo album since he pulled the plug on his former band, Grandaddy, in 2006. While the Modesto, Calif. native doesn't stray much from his sonic comfort zone on Dept. Of Disappearance, he's got a sound so distinctively (and wonderfully) his own, that to do anything else would be nearly sacrilege. Lytle's songs are never aggressively experimental, but are always fantastically composed, with elegant chord progressions that build and ebb cinematically. Lytle recorded and played every instrument in his home studio, now located outside Bozeman, Mont., layering fuzzy guitars and synths with quirky electronics and lullaby melodies. The songs are as sweetly sad as they are comical and as intimate as they are epic.