Top 10 Outer Sound Albums Of 2012
Suzy Poling/Courtesy of the artist
Noise is no stranger to beats, but this year the more outsider realms of music embraced rhythm in its own disjointed, messed up and zonked-out kind of way. What Cut Hands' Afro Noise and Pete Swanson's Man With Potential began in earnest in 2011 (and continued, quite brilliantly so, with Swanson's Pro Style 12" this past fall) unlocked a fractured groove in 2012. Like any loosely organized vibe, it's unclear what the noise community will excavate from these beats, but Lee Gamble's deconstructed jungle tapes, Wanda Group's tape-hiss wonk (and anything on Opal Tapes, really), and Silent Servant's brutal and cavernous techno are just three of the year's deepest beat divers. Come to think of it, trap music is just as weird, but that's a tangent for another time.
What is "outer sound," you might ask? Few things tied together this wide umbrella of music in 2012 except that these folks are explorers, always looking for the next sound. The list below encompasses grating harsh noise, dulcet synth tones, ambient dance music, chooglin' psych-rock and whatever it is that Swans does.
A few things that didn't make the list: I'd be remiss if I didn't acknowledge the phenomenal material that was released as part of composer Pauline Oliveros' 80th birthday celebrations. There was the stormy and spacious Needle Drop Jungle, reportedly the final recording with her Deep Listening Band, and a new version of Primordial/Lift, Oliveros' most complex and massive work. And then there's the archival 12-disc box set, Reverberations: Tape & Electronic Music, perhaps one of the most vital documents of early electronic music released this past decade. In the pursuit of absorbing it all, I only regret that I did not write about any of them.
And in the mountain of cassettes that spooled around a Walkman hooked up to my system this year, Clint Heidorn's deeply heartfelt +33° 58' 41.85", -117° 49' 13.74" (The Oak Tree) was the most graceful and affecting. With some versions packaged in beautiful wooden boxes, bedded with photographs and leaves, the eight-minute piece flutters with wandering saxophone, uncertain electric guitar and upright bass until it finds a revelatory foothold in a choral group sing, like finding home just before we pass this mortal coil.
Ranking be damned, this personal top 10 list is in alphabetical order. (If you're aching for more than 10 albums, head on over to my blog for the records that I hated to cut.)
Top 10 Outer Sound Albums Of 2012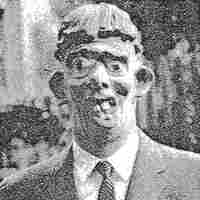 Eight Cut Scars [For Robert Turman]
Aaron Dilloway, 'Modern Jester'
Song: Eight Cut Scars [For Robert Turman]
Since it thrust Burned Mind harshly upon an unknowing public in 2004, Wolf Eyes has almost functioned as the elder statesband of American noise (or at least its weird uncle) alongside its many (many) side projects. Aaron Dilloway quit the band in 2005, yet it's sometimes hard (and, yes, unfair) to separate his presence even as Wolf Eyes continues to move outward. Modern Jester is a sprawling work that doesn't redefine noise, but it is, in a way, a reflection of Dilloway's indelible sonic taste. While many of us looked back on the lasting effects of The Disintegration Loops this year, Modern Jester used the tape loop as a different means for construction. Over four sides of vinyl, foghorn-like warbles fail and traditional Nepalese rhythms form the pieces that turn over and over like mulch, its caustic and sometimes quiet manner rather disquieting.
Holly Herndon, 'Movement'
As much as the submerged club banger "Fade" spun in my headphones, the real joy of Movement is its unabashed manipulation and exploration of the human voice. Unlike Andy Stott, whose Luxury Problems was brilliantly built around ghostly phrases, Holly Herndon humanizes the otherwise disembodied experience of laptop music through an extremely personal vessel.
Jason Lescalleet, 'Songs About Nothing'
Let's get this out of the way: Everything from the color scheme to the album title to the font type to the replicated track times (on disc one, at least) is Jason Lescalleet's strange tribute to Big Black's Songs About F------. As a fan of that provocative '80s noise-rock band, it all made me chuckle, but as far as I can tell, that's as far as the homage goes. Like Aaron Dilloway's Modern Jester, Songs About Nothing is a statement on tape loops and samples, even if that statement is that source material is negligible, only a means to a sound. (Coincidentally, Dilloway and Lescalleet released a collaborative LP this year, Grapes and Snakes, well worth seeking out.) Unlike Modern Jester, the album's construction is concise and quite aware of what's happening at all times — it feels meticulously composed rather than improvised.
Motion Sickness Of Time Travel, 'Motion Sickness Of Time Travel'
Having collected as many limited edition tapes as I could get my hands on over the last few years, I thought it was about time Rachel Evans' Motion Sickness of Time Travel moniker finally got a wider release. Stretching four tracks over four sides of vinyl, this self-titled record celebrates a world of ambient music from Terry Riley to 1980s New Age, yet conveys a personal vision that works outside the trappings of that world. Reflective yet forward-moving, it drifts from one passage to another leaving only a memory of how you got there.
Motion Sickness of Time Travel is available from Forced Exposure.
Pelt, 'Effigy'
We now celebrate the lives of musicians who have passed away with holograms. It's repulsive, practically dooming legacies to digital stasis. If the spirit still moves, that legacy should evolve beyond what the artist could have possibly imagined. The members of Pelt lost a beloved friend, band member and inspiration in 2009, acoustic guitarist Jack Rose. With Effigy, the acoustic drone outfit not only eulogizes Rose, but makes a larger point about our place in this world. The double LP moves with a powerful energy, dreamlike bells and gongs, ecstatically pushing up the earth with urgent strings.
Ricardo Donoso, 'Assimilating The Shadow'
If it was possible for ambient dance music to slow its roll, Ricardo Donoso's found a way to make it happen. Among noise's many striking experiments with beats in 2012, I gravitated towards Assimilating the Shadow's mellow arpeggiated synth-work the most. Donoso's framework is deceptively simple, but as he builds and takes away complex, drum-less, but nevertheless rhythm-full patterns, it's easy to get lulled into a meditative rave.
Richard Skelton, 'Verse Of Birds'
It's been over a decade since I've shown an interest in poetry, but on late nights this year, I've sat in my worn armchair, reading the poetry and prose of Richard Skelton out loud while listening to the three recordings he self-released in 2012: The Complete Landings, Verse of Birds and Liminology. I'm not sure if he intended that relationship, but it's how I connected to the words, which literally fall off pages and clash like the violent violins and clipped acoustic guitar plucks that make up much of his musical output. The music moves with the tumult and grace of the very rivers that inspired Liminology, in particular, and dives deep into a place where fragments become passages.
Verse of Birds is available on Bandcamp. Skelton's books are available from Corbel Stone Press.
Scott Walker, 'Bish Bosch'
The first time I heard The Drift, in 2006, I didn't feel human afterward. The first time I heard Bish Bosch a few months ago I couldn't get over how human it was. As serious he seems to be, it's like Scott Walker's mocking himself, mocking the institution of the instituted avant-garde through audio gags (farts, even), near-impenetrable references to history (well, that might be par for the course), and hilariously outright insults ("If s--- were music / la la la / you'd be a brass band") directed at ... himself? Everyone else? Or maybe this self-awareness is just an inside joke we're not in on. Shockingly, Bish Bosch is also the most "rock" thing this oblique crooner has ever released, and maybe just better experienced for what it is: a baffling good time.
Six Organs Of Admittance, 'Ascent'
Confession: My love for Ascent is purely selfish. One of these days, I want to write the tome on the blown-out psych-rock band Comets on Fire, my favorite band of the '00s. Comets broke up some time ago (or went on hiatus — it's not entirely clear), but on Ascent, former member Ben Chasny literally got the old band back together under his long-running Six Organs of Admittance moniker. Here's the thing, though, Ascent ain't a retread, it's almost an alternate universe where Comets was under one mind (Chasny's) instead of a collective. Ascent choogles hard, sure, and is plenty zonked, but the jammy tangents never run away; they only serve the purpose of the song.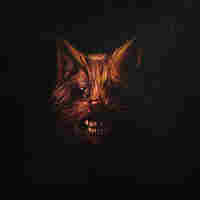 Swans, 'The Seer'
Song: Mother Of The World
In 2012, nothing was as self-serving, grand and sadomasochistic as The Seer. In its two-hour running time, Michael Gira whomps up a cyclonic holler and I got swept right up in it. This wasn't made for earbuds and desiccated digital files while you tap-tap away at the coffee shop — no, The Seer demands your audience and an air conditioner-less room. Few records felt as lived-in, its commanding downbeats of distortion and clatter tearing apart Gira's 30 years of uncompromising rock-based noise, then putting it all back together with tattered folk songs about light and God.