Top 10 Top 40 Of 2013
Ethan Miller/Getty Images
2013 was the year that showed the door to the idea that mainstream pop is inconsequential junk. The intense debates that raged about many of the year's most widely heard songs — "Royals," "We Can't Stop," "Cruise," "Blurred Lines," "Thrift Shop" — proved that whether meaning radiates outward from the songs we live with every day, or is absorbed by the feelings and beliefs we project onto them, pop means a lot. Whether it's good or not is still a matter of hot debate. I take the side of those who find pleasure in spinning the car radio dial, or, in more 21st-century terms, relaxing into the Top 40 stream on whatever online delivery service you prefer.
This list, now in its third year of existence, exists to support the argument that Top 40 pop isn't only good for getting the conversation going at the (now mostly virtual) water cooler. It's also great for listening. I've set some criteria here. I've included no zeitgeist-dominators; these are part of pop's general flow. Each was released as a single in 2013, though some are from 2012 albums. Each found its place on Billboard's year-end Hot 100 chart. None have been featured in NPR Music's other lists (thus no "Body Party," a great song in any year). Most never built up that hipster patina that makes some aesthetes feel like certain songs are worthwhile despite the approval of the undiscerning masses.
These are pop songs, plain and simple. You heard them buying a birthday present for your niece at Hot Topic or grabbing lunch with your mom at your neighborhood family restaurant, pouring out of your kid's bedroom or remixed in the club. Or, really, wherever you spent time living in the midst of people who might not be exactly the same as you. And maybe for a flashing moment you wondered, what is that? It sounds good.
Pop remains an antidote to niche-deep separations and habits of exclusionary thinking that so often afflict us as we huddle over our individual, ever-present screens, heads bound up in Beats by Dre. (Or Skullcandy, if, like my kid, you're an aspiring Goth.) These ten songs employ emotionalism, high craftsmanship, and a devotion to the pleasure principle to create spaces open for laughs and tears and dancing. Enjoy them. That's their point.
Top 10 Top 40 Of 2013
Advisory: Some of these songs contain profanity.
Bruno Mars, 'Treasure'
He doesn't make the headlines more provocative stars accrue, but Bruno Mars is pop's current MVP. He's the most musical star around, conversant in every popular musical strain that's surfaced since the mid-20th century. And he uses his gifts to create songs about love and sex that emphasize bodily delight, real intimacy and the heart-swelling joy of it all. This feather-light confection, with its Off the Wall vocal layering, popcorn bass line and squiggly synth hook, is 100 per cent sweetness and light.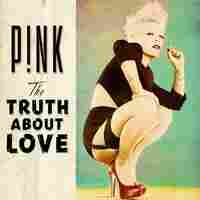 Pink (feat. Nate Ruess), 'Just Give Me a Reason'
The drama! The acrobatic goddess of big notes and bigger empathy finds her match in fun.'s earnestly dapper frontman, and together they produce a real duet, not just a pseudo-collaboration whose elements feel like they were cut-and-pasted from random flash drives. This could be a country song like George and Tammy did 'em, or a soul summit along the lines of Diana and Lionel. In fact it's a show tune — a showstopper — that tells a full story from two equal perspectives and, thanks to Pink, has the best rafters-reaching high note of the year.
Darius Rucker, 'Wagon Wheel'
The former Blowfish-leading soft rocker's transformation into country's second biggest African-American artist ever is even more heartwarming because it was such a smooth transition: With a voice that sounds like your cranky but lovable neighbor's and a genius for laying back into the groove, he was born to sing this stuff. This song is an ode to the hobo's life of the working musician, written by Old Crow Medicine Show's Ketch Secor based on a half-completed draft by Bob Dylan. With it, Rucker honors the world that made him: all those bands that never got fashionable but still serve their fans in bars and on festival side stages hundreds of nights a year. The salt of musical America's earth — like Hootie, before fame's accident.
Rihanna (feat. Mikky Ekko), 'Stay'
Like all celebrities, pop stars have to cut through extra-musical noise every day – none more than Rihanna, whose love-hate relationship with her former abuser Chris Brown interrupted, then defined, then threatened to utterly overwhelm her career. Then there are the continued assertions by those who don't recognize her innate cool as a personality trait that the omnipresent star is merely a bland presence draped over other people's beats. These are the reasons why Rihanna had to make "Stay," the show-stopping ballad every diva requires. Plainspoken, a clear pool of dark heartache with the lightest vocal undercurrent from its cowriter Mikky Ekko, "Stay" gives Rihanna a chance to employ her willfully imperfect, openly vulnerable voice to simply lay out her music's major theme: that desire complicates everything, and always risks loss.
Ace Hood (feat. Future and Rick Ross), 'Bugatti'
What is going on in this song? A club banger that seems to conjure zombies, with metallic, smoky production from Miley Cyrus's BFF (and one of 2013's hottest beat-makers) Mike WiLL Made It, "Bugatti" is, on the surface, a riotous celebration of newfound wealth. It's exactly the kind of luxe overload that Lorde decried as a dead-end route in "Royals." Yet its utterly suspenseful soundbed, and the grittily operatic chorus voiced by the always charismatic Future, tells a different story. This is the sound of vertigo: the dislocation and fear that comes from gaining capital that feels totally insecure. Ace Hood's speedy raps sound like threats. Rick Ross comes in late with the vocal weight, but the jittery mood can't be subdued. "Survival is a game of chance; revenge is a calculated plan of action," Ace Hood intones slyly in the middle of the song. He's posing tough, but you have to wonder if the revenge might be coming for him.
Lana Del Rey vs Cedric Gervais, 'Summertime Sadness'
Pop is so green — it's all about recycling. Much of this year's chatter about the Top 40 was a game of calling out sources: Katy Perry's "Roar" copped Sara Bareilles's "Brave" to the great benefit of the more obscure singer-songwriter; "Blurred Lines" violated (or celebrated) Marvin Gaye's "Got To Give It Up." For Lana Del Rey, having a song second-handled — in a remix by the Miami-based house producer Cedric Gervais — was a heaven-sent blessing. Something surprising happens to this noir ballad about how dread's gravitational pull undoes happiness: Wrapped inside Gervais's massive beats and swirling translucent synths like a body soon to be dumped in a lake, it becomes a more intimate expression. Del Rey's whispers and moans, wafting through the din, push wetly against the ear. The party is interrupted; the girl passing out in the corner has something to day. And it's not pretty, though she is. As the mix envelops you, this tragedy plays out again and again.
Jason DeRulo, 'The Other Side'
Songs about the first time have a built-in giddiness that's often hard to resist. One of pop music's roles in society, after all, is to heighten the mood while lovers run bases on each other's bodies. Jason DeRulo, the most adorably of aspiring earnest of today's aspiring lovermen, is the perfect guy to deliver this sweet seduction set to an impatient dance beat. "We got closer; soon you were eatin' off my spoon," DeRulo confides in the verse before getting down to business on the chorus. Little details like that — and the sweetness of DeRulo's voice, even when it's Auto-Tuned — make this song work as an unlikely amalgam: a make-out anthem that turns a very private milestone into a mutual triumph worth publicly celebrating. In a year dominated by much dirtier come-ons, "The Other Side" came on like rejuvenating fresh air.
Fall Out Boy, 'My Songs Know What You Did in the Dark (Light Em Up)'
Within the common consciousness of mainstream pop, rock is really in a corner right now. The most credible old-school rock stars — artists who like guitars, flash, noise and the scent of rebellion — are Miley Cyrus, Lady Gaga and Eminem. But emo — or whatever you want to call the band-based style that celebrates punk but is open to melodicism and, more recently, the innovations of electronic music — is still firing at the barricades. In fact, emo's proven surprisingly resilient and able to adapt to new pop trends, as this banger of a song from the venerated band Fall Out Boy proves. It's a confrontational anthem about (what else is necessary right now?) the power of rock itself, vocalist Patrick Stump shows that his soul fetish has only served his ability to nail a totally screaming chorus, and though the guitars take a backseat to the crashing beat, the mood's still full metal black leather jacket. Fire!
Miranda Lambert, 'Mama's Broken Heart'
Country's vanguard of deeply sassy women had a big impact this year among critics and connoisseurs: Brandy Clark's 12 Stories topped more than one Best Albums list, and Kacey Musgraves is on an award tour that will, I hope, land her a handful of Grammys. But let's not forget older sister Miranda in this feminist-flavored family affair. She's been burning down preconceptions in Nashville for years, and this single, the sleeper hit from her 2011 album Four The Record, shows her match-throwing skills at their apex. Written by Musgraves and Clark with their creative BFF Shane McAnally, "Mama's Broken Heart" is an unhinged reworking of Nancy Sinatra's "These Boots Are Made For Walking" — a faster pussycat's account of a post-breakup binge that does in any Oprah-like notions of inner healing. Lambert brings the swagger throughout the scene-setting verses and a metal-country chorus that rips the curtains down. Hide your crazy? Sorry, mama. Even nice girls don't do that any more.
Ylvis, 'The Fox (What Does the Fox Say?)'
Like millions of American parents, I was schooled about this viral hit by my grade schooler. It's a novelty song with a video featuring its Norwegian makers in ridiculous animal costumes. But it's also an irresistibly catchy number that satirizes pop with a volley of well-aimed arrows. The verses unfold with the weighty seriousness of that Imagine Dragons song "Radioactive," which everyone claims to hate, though it was one of 2013's major singles. The chorus bursts forth, powered by an EDM drop covered in sonic silly string. As the song's jumble of pop references gets more confusing, Ylvis — brothers Vegard and Bard Ylvisaker, comedians by trade — unleash a vomitous torrent of weird animal sounds. Instead of the standard uplifting EDM chorus or the roaring croon of modern rock, we get wa-pa-pa-pa pa-pow and ha-ha-ha-tee-ho. This effervescent B.S. cleanser served as a reminder that above all else, pop is fun.