BPP On The Scene: The New York Steam Pipe Explosion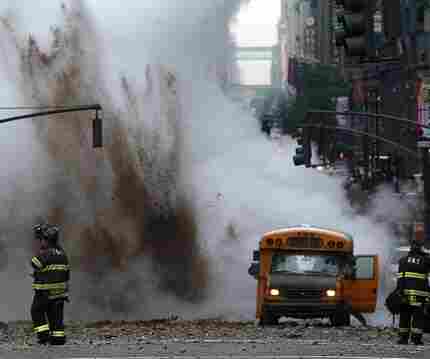 As you probably know by now, there was a steam pipe explosion yesterday in Midtown Manhattan, a few blocks from our office. When we got the word, I grabbed my camera and took off toward the plume. Producer MJ Davis and I made our way through the crush of humanity and landed a block away from the explosion, in the middle of a speculation extravaganza. "That sound is the building collapsing," said one guy who probably wasn't a structural engineer. Another woman was yelling that someone had reported seeing a giant fireball. We didn't see any evidence of that either, but the geyser of steam and debris was visually horrifying enough. The street was filled with smoke and sirens, and there was no visibility whatsoever through 41st Street. From the fog, a seemingly endless parade of ragged New Yorkers in impossibly filthy business suits emerged. It was, needless to say, evocative of a much darker hour.
I pointed my camera at the plume and saw that my battery was out. I'd been filming a behind-the-scenes-of-the-BPP piece over the last two days and hadn't gotten a chance to charge up. At that point, I briefly indulged in some cursing and self-loathing, which lasted until I remembered my backup. I had brought the little digital still camera, a birthday present from a few years back (thanks Mom!) It too could roll small bits of video...there would be salvation! No, not really. It died too. I suddenly remembered running those batteries dry a few weekends ago in Atlantic City while taking pictures of my friends eating funnel cake and lamenting the loss of their chips at 4 am on the boardwalk.
I made my way over to a Duane Reade drugstore, hoping to find some way of documenting what was going on. It turns out that they sell video cameras. I saw one behind the counter that looked kind of like a bad iPod knockoff, on sale for 40 bucks. I pleaded with woman in front of me to let me cut her in line. I told her I was press and was trying to cover the same explosion that she was miserably (and very loudly) misreporting to whoever was on the other end of her pink Motorola Razr. She would not relent (or really even make eye contact with me) so I waited, cursing and loathing her, while she bought some mouthwash and chewing gum.
A few minutes later, I was back on the street. Luckily there were very few injuries and more than a few people who were willing to share their real stories. Here's what we finally got with that drugstore camera.