Easy Philanthropy: If You Aren't Mr./Ms. Moneybags, Buy a Feedbag
So yesterday I ran through a list of super philanthropists who throw down millions and millions for good causes.
No need to feel inadequate just because you can't donate the gross domestic product of Denmark. Here's a way to do good and feel good.
Strap on a feedbag. Literally. It's a canvas/burlap shoulder bag for sale exclusively through Amazon. It was thought up by United Nations World Food Program spokesperson Lauren Bush. (She's also the president's niece.)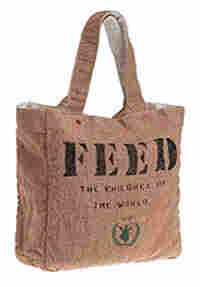 I saw this in Domino Magazine yesterday and thought it was cool.
It costs $59.95. If that seems like a lot consider this: One bag will pay for feeding one child in school for an entire year, which costs 19 cents a day, or $34 a year.