Nobody Puts the BPP in a Corner : The Bryant Park Project
-- Our lead is President Bush's speech yesterday at a VFW in Kansas City, Missouri. Bush compared Iraq to Vietnam for the first time. With just three weeks until
Nobody Puts the BPP in a Corner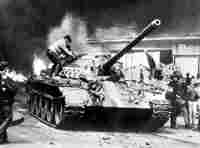 -- Our lead is President Bush's speech yesterday at a VFW in Kansas City, Missouri. Bush compared Iraq to Vietnam for the first time. With just three weeks until General Petraeus submits his status report on the operations in Iraq, we called Retired Army Colonel Jack Jacobs. Colonel Jacobs earned three Bronze Stars, two Silver Stars, Purple Hearts and The Medal of Honor for his heroic acts in Vietnam.
-- We'll discuss office tyrants with the Wall Street Journal's Jared Sandberg. You know the person in your office who makes you jump through crazy hoops just to get a new stapler? That's an office tyrant. Post your best (or worst) office tyrant story to the blog!
-- In the Ramble: Roger Stone says he couldn't have left a threatening voicemail for New York Governor Eliot Spitzer's elderly father Monday night because he was at a performance of the Broadway play Frost/Nixon. But a New York magazine blogger pointed out that the play had no Monday night performances... The studio behind the 1987 film Dirty Dancing is suing several clothing companies who've coopted the line, "Nobody puts baby in a corner."...Oh, but somebody put Foxy Brown in a corner. Last year she was sentenced to three years of probation for assaulting two manicurists in a nail salon. But last month she violated probation when she battered a woman with her Blackberry and now the pregnant Brown is in jail...As of last weekend, spam has an older brother -- "bacn." Bacn is email that you want -- MySpace alerts, online billing statements -- but rarely read. We called Andy Quayle of IT Pittsburgh -- he was part of the bacn braintrust -- to find out why nothing in Web 2.0 has all its vowels.
-- Can a family of four live off of $20,650.00? That's the National Poverty line. We ask Helen Levy of the Institute for Social Research at the University of Michigan how the government arrived at that number and how it affects the State Children's Health Insurance Program.
-- We talk with Amplifier magazine reporter Erica Clark about a few albums coming out this week, including releases from the All Night Chemists, Rilo Kiley, M.I.A. and a compilation of covers called Guilt By Association.
-- Thirty-nine years ago this week the Soviets arrived in Czechoslovakia -- marking the end of the Prague Spring. Prague Spring is the name given to the few months when Czechs were enjoying freedom of press, a rise in consumer goods, and moving toward a multi-party political system. Alice Fossner lived in Czechoslovakia at the end of Prague Spring -- she is also the mother-in-law of show director Dan Pashman -- so we asked Mrs. Fossner to share her story.
Email and tell us what's working for you and what's not, and post your office tyrant stories to the blog.