Friendly Scientist Identifies NPR's Pet Bat
Turns out I've found no ordinary brick bat.
My colleagues Vikki Valentine and Jessica Goldstein at the NPR Science Desk passed along photos of the bat nestled in a crevice here in Washington, D.C., to bat expert Hill Henry (not a typo, I swear). Hill, a biologist with the Tennessee Valley Authority, writes:
"Not a big brown, I'll go with one of my favorites, the silver-haired bat. The light colored (pink) patch of skin on an otherwise black ear is diagnostic, in addition to silver hair on the back and hair-covered patagium."
(That's the double-sided skin that makes up bats' wings)
We've got an audio interview with Hill on our showpage, plus more of his e-mail and another photo from Andrew Prince after the jump.
Hill continues, "It's hard to see much of the silver hair in the photos, but there are some."
He says we found "a GREAT bat, few folks outside of the bat biologist arena see these guys. I have only captured my specimens in the Cherokee National Forest, in the Hiwassee Watershed."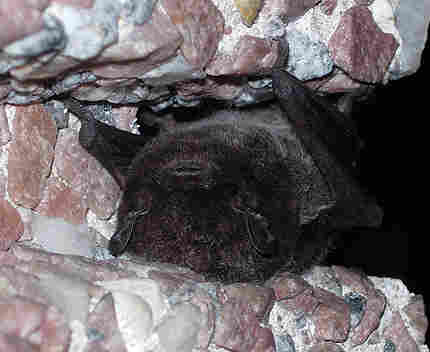 I admit, I had no idea people were so passionate about bats — especially in a positive sense! I ran into some folks on the sidewalk who like the bat a lot. But then I noticed they had on uniforms from Madame Tussaud's Wax Museum, and realized maybe you can't take them as a standard sample of the populace.
Still, it's funny that he/she's getting so many fans by basically sleeping in public.