Running the Iditarod: 350 Snowy Miles in Sneakers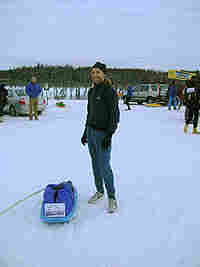 Geoff Roes lives in Alaska with his semi-famous girlfriend, Jill Homer, who's planning to bike the Iditarod. Jill has been blogging about her training for the 350-mile race through the Alaskan wilderness. It'll be a lonely trip, dark and cold and about as hard as a human can stand.
Geoff knows how scary the human-powered Iditarod must seem to Jill, because he's also in the race — in the runners division. On today's show, we played a couple of clips from Geoff, who says he's planning to run in a pair of oversized sneakers with plenty of socks and a neoprene cover. He'll carry his gear in that sled you see up there, bought for a few bucks at the drugstore.
Geoff says he's most worried that Jill will get stuck in heavy snow and end up pushing her bike a great distance. As for himself, he's a little psyched out about the second-part of race — about four days in — when the competitors cross the Alaska Range and continue across a flat, frozen plain.
"You're in a completely new area that I've never even seen, other than in pictures, and it's generally about 30 degrees colder than the weather on the front side," he says.