Sound Off: Bhutto Killed. Feeling Queasy?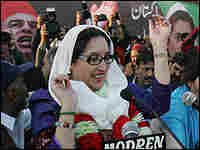 First the news said there had been a bomb blast at a Benazir Bhutto campaign rally in Rawalpindi, Pakistan. Then it said the former prime minster had been hurt. And then it said Bhutto had been killed.
Don't know about you, I couldn't help feeling a little queasy in the newsroom — if I'm not sure yet exactly why. You?