Bad Ankle Forces Geoff Roes From the Race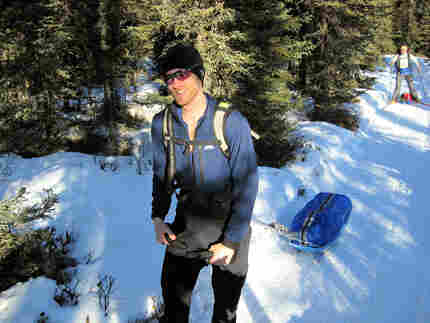 Reports from the Iditarod Trail Invitational are thinning out as the racers move deeper into the 350-mile course to McGrath, Alaska.
Runner Geoff Roes was leading the pack when he checked into Finger Lake (mile 130). Then his name froze on the leader board as he spent 12 long hours in the cabin there. Last yesterday, word emerged that Roes had injured his ankle. He waited at Finger Lake in hopes of being able to continue, and he did set out on the course again. But the mighty runner could go no more.
After the jump, a Google map of the frozen course, plus an update on Jill Homer.
Meanwhile, Roes' girlfriend, snow cyclist Jill Homer, appears to be on track for setting a women's biking record. The last report showed her checking into Puntilla (mile 165) at 3:34 a.m. Tuesday and heading out that morning at 8:55.
Homer was heading into tough territory. Pilot Mike Ver Hoef spotted a group of cyclist struggling to deal with the Dalzell Gorge. The site reports: "Apparently there are some ice bridges in the gorge. However there is still lots of open water to contend with so they are sidehilling the slope. This means a lot of bike pushing combined with sidehilling -- never a fun combination."

View Larger Map
Nikolai weather, 2.27.08: High of 14, low of -1