Slideshow: A Cool Dip for a Warming Planet
St. Mary's College students filled their campus waterfront with splashes and shrill laughter on Thursday afternoon — not just for fun, but to show concern about global warming. As part of their second annual "polar bear splash," over a hundred stripped down to their swimsuit and plunged into the freezing cold St. Mary's river.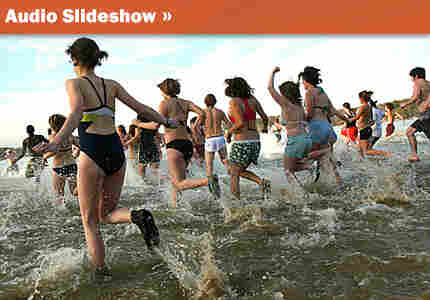 "In our frenzy we lost our thermometer, but we're pretty sure it's 38 degrees," said a shivering Shane Hall, junior at St. Mary's, about the river's water temperature. He spoke with the Bryant Park Project by cell phone shortly after the event, standing knee deep in the river.
The swimmers chased a canoe manned by a student dressed in a polar bear costume and brought it back to shore. They hope the stunt reminds people about the effects of global warming, including the threat to polar bear habitat as a result of thinning arctic ice.
"If they swim, we swim," said Hall, who is a member of SEAC, the Student Environmental Action Coalition on campus.
The polar bear splash was one of many climate change educational events that took place on an estimated 1500 college campuses nationwide this past week. Campuses from New Mexico to Philadephia had teach-ins about renewable energy and environmental protection, under the leadership of Focus the Nation.
Shane Hall of St. Mary's says climate change is "our generation's greatest challenge."