The Joy of Christian Sex Toys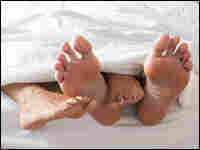 As part of our Valentine's Day coverage, we had Joy Wilson of Book22 on our show. The evangelical Christian opened up about how her personal troubles rekindling intimacy after her first child burgeoned into an online sex toy business.
Joy's products are for married couples only. You won't find any images of naked people, and anal toys are a no-no. Prayer helped her decide which toys were acceptable for Christians.
Her business has become a ministry of sorts -- Joy gets almost as many requests for sex advice as she does for her toys.
Sorry folks, no multimedia for this story. But Joy's story couldn't be more colorful.