Warm Enough in Anchorage, Geoff Roes Checks In : The Bryant Park Project Warm enough in Anchorage, Geoff Roes checks in.
Warm Enough in Anchorage, Geoff Roes Checks In


Geoff Roes on having to quit the race at mile 130.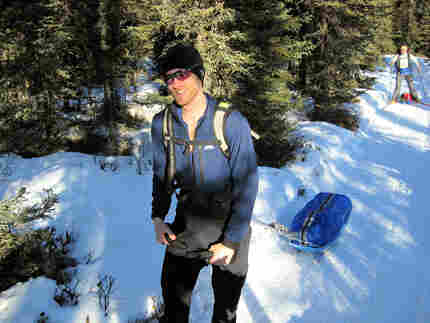 Got an e-mail this morning from runner Geoff Roes, who'd been leading the men's division in the 350-mile Iditarod Trail Invitational before an ankle went bad and he had to leave the race — at mile 130.
Roes is now in Anchorage, in a place with no phone, but he promises to call later. (And special thanks to his mother, Sharon Roes, for helping to get us in touch with her son.) Roes writes, "It's funny because there's all this discussion about the race going on all over the Internet, but out on the trail we don't know or hear any of it, so it's been interesting and surprising to see how much interest there has been in following our progress. Obviously things didn't go as planned for me." Now he's looking forward to next year.
Roes' girlfriend, Jill Homer, may or may not be holed up at the Rohn checkpoint (mile 210). The leader board says she's "still in," but lists another racer as "last out." Not sure what that's about. (An aside: Joe Polk reports that race officials weren't able to get a heater into the Rohn roadhouse. Brrrr.)
UPDATE: Homer has left Rohn, for the final 140 miles. Roes says he's not sure why she stayed at the checkpoint for so long, but he's relieved that she's on her way.
After the jump, an updated Google map.

View Larger Map
Weather in McGrath, 02.28.08: High of 15, low of -5.