BPP Book Club: An American in Tripoli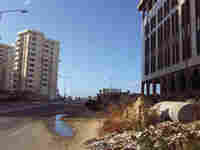 For much of the last 40 years, Libya — setting of the BPP's inaugural book club selection, In the Country of Men — has been an enigma to Americans.
But in 2004, restrictions on the use of U.S. passports to travel to the country were lifted. One of the first people who took advantage of the opportunity to travel there was freelance journalist Michael J. Totten, who wrote about his trip in the LA Weekly. His piece details an atmosphere of oppression and lethargy. It's not exactly what the Libyan tourism industry would have commissioned:
Tripoli's aesthetic brutality hurt me.
I walked parts of the city hardly any foreigners ever bothered to see. It looked post-apocalyptic, as if it had been evacuated in war or hit with a neutron bomb. The sound of machine-gun fire off in the distance wouldn't have seemed out of place.
Totten did see some of the country's spectacular archeological and historical sights, and says the people are unfailingly friendly.
But if his account inspires you to make a visit yourself, be warned: It's still not easy, and getting incrementally harder all the time. Despite softening relations between the U.S. and Tripoli — in 2006, Ghadafi's government was officially taken off the State Department's list of state sponsors of terrorism — the Libyan government has recently instituted new restrictions on Americans traveling to that country. This, from the US State Department's website:
Without prior notice, the Libyan government on November 11, 2007 reinstated a requirement that all foreign travelers must have an Arabic translation of their personal biographic data added to their passport in order to apply for a Libyan visa, to enter Libya, or to stay in Libya even with a Libyan visa. This requirement includes foreigners who already received visas before the requirement was put into place, including those foreigners currently resident in Libya. Since that date, foreign travelers whose passports do not have Arabic translations have been denied entry into Libya or refused boarding by airlines on flights into Libya.
In a letter dated January 1, 2008, the Libyan government notified airlines that, beginning January 7, 2008, all tourist visa holders, both individuals and in tour groups, must show that they have at least USD1000 or the equivalent in currency in order to be allowed to enter Libya. Credit cards, bank statements, and travelers checks will not be accepted to meet this requirement.
Anyone out there been to Libya lately? Drop us a line in the comments.
The BPP Book Club now has its own e-mail address.