Seen Any Good Typo's Lately?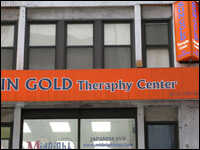 Jeff Deck and the Typo Eradication Advancement League are wandering the country, even as we speak, bringing the red pen of justice to typos everywhere.
Seen any? Tricia McKinney spotted the one above. After the jump, one from David Hollis of Hamilton, New York, and Radio Free Hamilton.