Spitzer Resigns After Prostitution Scandal : The Bryant Park Project Spitzer resigns after prostitution scandal.
Spitzer Resigns After Prostitution Scandal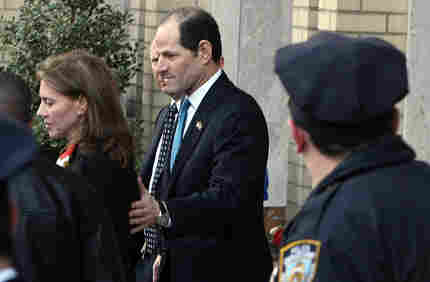 From his opening throat-clearing to the reporter asking if he ever thought it would come to this, Eliot Spitzer's resignation speech passed in a blink. I could have held my breath for the whole thing if I hadn't been typing it up for Twitter. Before the New York governor stepped down, some had said Spitzer was trying to leverage his exit for a deal with the prosecutors naming him as a customer in a prostitution ring.
With regard to that idea, the U.S. Department of Justice sends this message: "In response to press speculation, Michael J. Garcia, the United States Attorney for the Southern District of New York, said: 'There is no agreement between this Office and Governor Eliot Spitzer, relating to his resignation or any other matter.' "
The change of office is slated for March 17, at the request of Lt. Gov. David Paterson. Paterson, who's legally blind, will become the first African-American governor of New York.