Caitlin Checks In: The NPR Vending Machine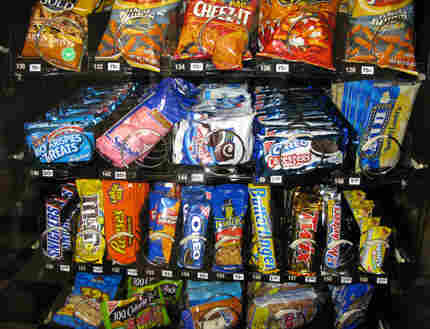 It's usually about this time of the day that I start hankering for a snack, something salty or sweet to fill up the space between meals.
Back in New York, this would have led to a trip to Pret or Le Mirage for a granola bar or a piece of fruit, but here in D.C. it means a trip to the vending machine on the third floor. One of the first things I noticed when I got to NPR headquarters two weeks ago was how unhealthy the food in the vending machines is.
Of course, I know vending-machine food by nature is not nutritious, but this one really goes to the extreme: loads of candy and cakes and even Sno Balls. When is the last time anyone really enjoyed a Sno Ball? What does this say about our office? Are we all a bunch of sweet tooths or are we so busy chasing down stories we'll eat just about anything we have to time to cram in?