Six Maasai Warriors Head to London : The Bryant Park Project An anthropological study of the modern Englishman.
Six Maasai Warriors Head to London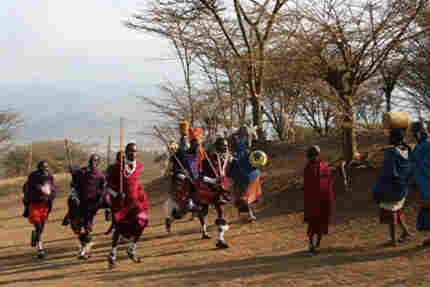 Six Maasai Warriors have left their home in Tanzania for the first time in their lives. On Sunday, they'll be running the London Marathon to raise money to get clean water for their village. In anticipation of their trip, the conservation charity Greenforce wrote up a pamphlet to help the Maasai prepare to meet the strange residents of London.
Even though some may look like they have a frown on their face, they are very friendly people--many of them just work in offices in jobs they don't enjoy and so they do not smile as much as they should do!!
Although English people share a lot, they do not do so to the same extent that the Maasai do. If you see something that someone else has (like a bracelet) and you like it, then the person will find it very unusual if you were to take it and wear it!
I'll admit it. I initially wanted to cover the Maasai marathoners just because I thought the pamphlet was hilarious. But after hearing Rachel talk with Marcus Watts of Greenforce about the Maasai trip to England, I'll be rooting for them too.
You can find out more about what they're trying to do here.