The News from China: Twittering the Earthquake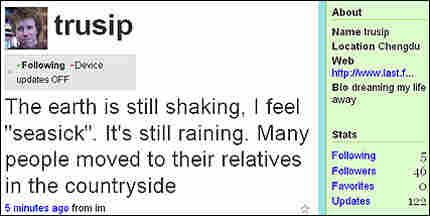 Before the big earthquake stopped Monday in China, people were getting the news out on Twitter. In posts no longer than 140 characters, they've been finding the news, describing what they see, reckoning with how it all feels.
"Just got a telephone call from my friends telling me that they expecting an other big one in the next half an hour," Trusip wrote on Monday.
Twitter pals @marilynm, @robpatrob and @acarvin have followed the tweeting from China closely.
With thanks to them, three recommendations for people to follow: @trusip, @dedlam and @chengdoo.
Also:
@dedlam on his big day
NPR reports from the scene
The BPP on Twitter