Allegory for an Industry, or Just a DUI Souvenir?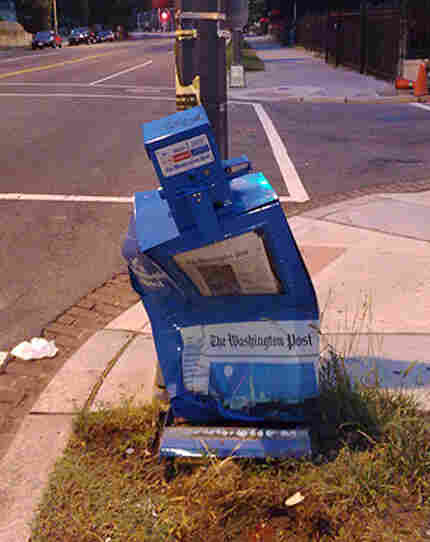 I was walking home the other night and saw this freshly crumpled newspaper box at an intersection in Washington, D.C.
Wish I could have seen this happen — the damage implies a state of control/uncontrol that intrigues me. It's really what I'd expect to see if you could cram a newspaper box into a huge microwave — and the box was made of plastic, I guess. It's like it just swooned.
Anyway, if you're someone who can't get enough of Newspaper Industry Dying stories, please just pretend I included that angle here, along with a pithy comparison of this stricken box and a budget crunch.
Bonus: You can even throw in me equating this hit to a denial-of-service Web attack, if you want to use metaphor to tap into the old "The more things change..." angle. But we needn't trouble ourselves with such things.