Your Ad is My Command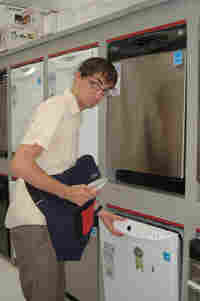 A couple weeks back I was drinking a beer, and on the label it said: "Come visit our brewery between 12 and 5 on Saturday." Seemed like a fun idea so I said to my girlfriend Nora, "Let's go visit the brewery between 12 and 5 on Saturday." As I said it, I thought, "What if I did everything advertising told me to do? What would my life be like?"
I spent a week trying to answer that question. There were explicit commands, like Register to Win a Free Cruise on Holland America Cruise Lines, but I was more interested in the vague directives — the "Just Do It" types. Enjoy the Ride, said Avis. Eat it with Pride, said the wrapper of my Arby's Roast Beef Sandwich. Some things just didn't make sense. Don't Leave Your Butt Behind, an ad for a medical procedure told me.
I knew that we're constantly bombarded with advertising messages. Paying attention to them, I realized just how much I usually ignore. The level of noise I tune out every day is astonishing. Look at Life in a New Way, Life Cereal told me, and I guess I am.
I'm a member of the Chuck E. Cheese E-Club now, because a poster of Mr.Cheese asked me to be. I Found my Epsonality. When an ad told me to Take My Dirtiest Dishes to the Whirlpool Power Scour, I snuck a dirty dish into an appliance store and tagged the Whirlpool washing machine with it. I'm awaiting an informational packet from University of Phoenix-Online. Nora and I Started Building the Backyard of Our Dreams at the request of Trex Outdoor Living Products, but we only have a fire escape so it's the Tiny Herb Garden of Our Dreams. Gu Energy Gel told me to Lace 'em Up, which I would have done anyway.
I thought I'd be safe when Nora and I went on a tour of the archives of Cornell Library in Ithaca last weekend, but no. Former star of stage and screen Robert Preston peered at me from five decades ago in a glass case and told me: "After the Game Enjoy Schenley." Schenley whiskey is still in production but I sure couldn't find it anywhere. Heineken told me to Embrace My Inner Bartender and I did so, though Heineken didn't say I had to do it with Heineken so I'm trying my hand at infusing gin with cucumbers to make extra-refreshing gin & tonics. Something good may come of this, after all.